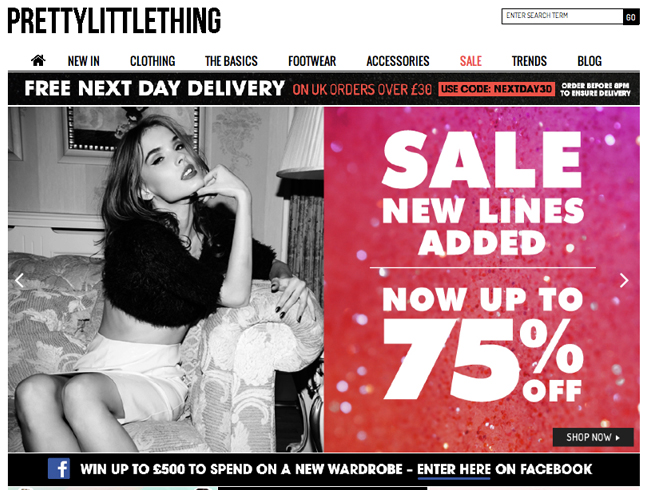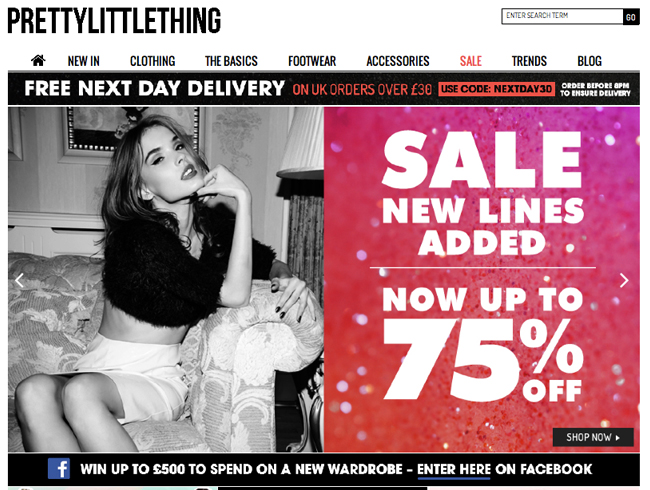 Who wants to leave the house, battle the elements, pay for parking and queue in long lines when you have the internet to help you do your shopping?
Online boutiques are the way forward when it comes to updating your wardrobe or shopping for that must-have piece, but we understated that it can get pretty overwhelming what with all the places to potentially shop on the net. We've hand-picked ten of our favourites for you, so all you have to do is click, browse, shop, and await delivery of your scrumptious new items.
Boohoo.com. Where do we go when we've spent most of our money on the latest it bag but still have much-needed clothes and accessories to shop for? Boohoo.com. It never fails to provide us with the latest trends at the purse-friendliest of prices.
Pink Boutique. The place to go for the girl's girl who loves her some attention-grabbing garb that's bound to get her noticed. Inspired by the trendiest of trendsetters: the celebs! An eye-catching and user-friendly online boutique!
ASOS. It goes without saying, but our lives would be incomplete without ASOS. There's a reason it's one of our first ports of call when we're in need of an outfit – we know we aren't the only ones who flock to this place in our sartorial time of need.
Secret Sales. Can you keep a secret? No, we can't either, that's why we don't mind shouting about the Secret Sales website from the rooftops. You don't need to be an industry insider to get all the latest tips about the hottest designer sales, as Secret Sales does all the hard work for you!
Pretty Little Thing. The clue is in the title, this boutique is flooded with the hottest and prettiest pieces of clothing and accessories to help us ladies look and feel our best. Products ship all over the world too! It even won the Fabulous High Street Fashion Awards prize for Online Boutique of the Year in 2013.
Wolf & Badger. This is a good one for those of you who like a bit of unknown luxury; become a trend-setter by stepping out in some hot designs from some new, up and coming designers. It also includes clothing, accessories, homeware and even gift ideas for the special people in your life!
Girl Meets Dress. The Blockbuster of clothing, Girl Meets Dress says no to owning, and yes to renting! That means you can wear a designer piece to your hot event without paying the full designer price! Perfect if you're the kind of girl who wouldn't be caught dead wearing the same outfit twice. No Kate Middletons, basically. We love the "if it doesn't fit, you don't pay" policy too, which makes shopping a lot more reassuring. Oh, and £10 off when you're a first-time shopper and newsletter subscriber doesn't hurt either! Ah, so much to love!
Austique. It started out on London's famous King's Road back in 2004, but now we can get all the latest luxury labels from across the globe without leaving our house. As well as the greats like Markus Lupfer, Alice + Olivia, and Zimmermann, you'll also find products from designers that aren't based in the UK, so not only are you branching out, but you'll also be helping budding new designers too. Win, win!
Baukjen. Founded by Baukjen de Swaan Arons, Baukjen is all about effortless, fuss-free pieces for the laid back but totally stylish woman. "Understated, effortless looks that women can live in" is the Baukjen mantra, and it stays true to its word with its countless gorgeous creations. The price points are reasonable too, so there's nothing not to love!
Stylist Pick. This does pretty much what it says on the tin – it does the hard work for you and picks out the most stylish and trendiest pieces with the expert help of some of the industry's finest. With collaborations from Louise Roe to Cheryl Cole and more – and tailor made suggestions sent straight to your inbox – it definitely ticks all of our boxes!