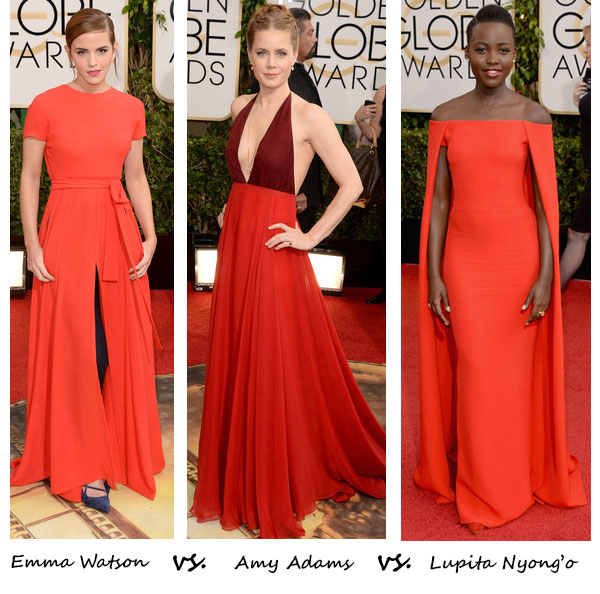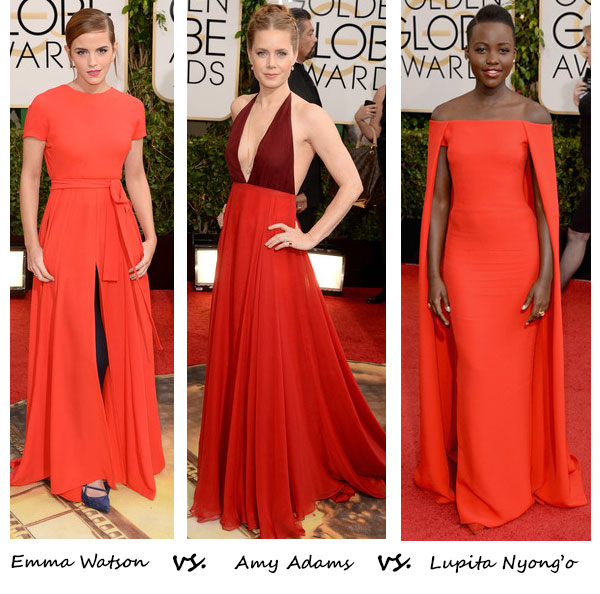 It may seem evident by now, but this week shall be spent basking in the glory of the Golden Globes' red carpet style. Yes, we've waxed lyrical about our best dressed, but it only feels natural to carry on!
Red was a prominent colour on the , ahem, red carpet at this year's Golden Globes (was it a frock-off with a carpet, ladies?), and we couldn't help pitching the leading ladies in red against one another. Partaking in this week's dress-off is Emma Watson in Dior Couture, Amy Adams in Valentino Couture, and Lupita Nyong'o in Ralph Lauren.
The trio of Hollywood darlings looked nothing short of breathtaking on the red carpet, and totally put across their individual styles in their choice of designer and dress, but there can only be one winner…
Emma bent the rules, and we love her for it! Wearing trousers with her Dior Couture gown, the peep of blue, cross-strap pumps perfectly round off her look. Amy looked divine in a dreamy Valentino Couture gown, officially making us scream "hell yeah!" at the return of the halterneck, while Lupita – the name on everyone's lips – stole the night in a cape-sleeved  Ralph Lauren gown. Could she be Superwoman in disguise? Judging by the recent buzz surrounding her, it wouldn't surprise us if she was!
Given all three ladies owned the red carpet with their respective looks, we haven't quite been able to pick up our jaws from the ground after laying eyes on Lupita's look. While she waits in line to find out about her potential Oscar-win next month, she's already won in the style stakes.
Whose look wins for you?