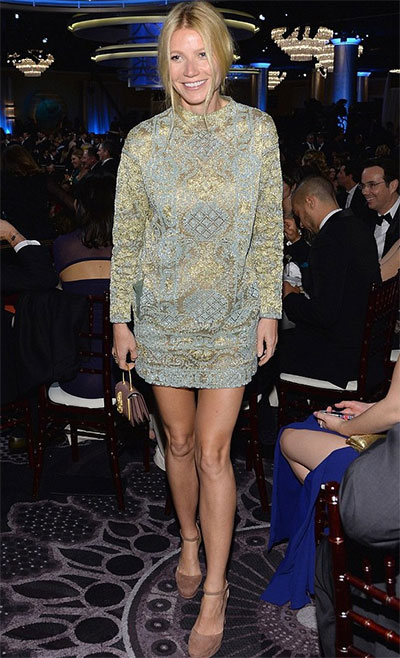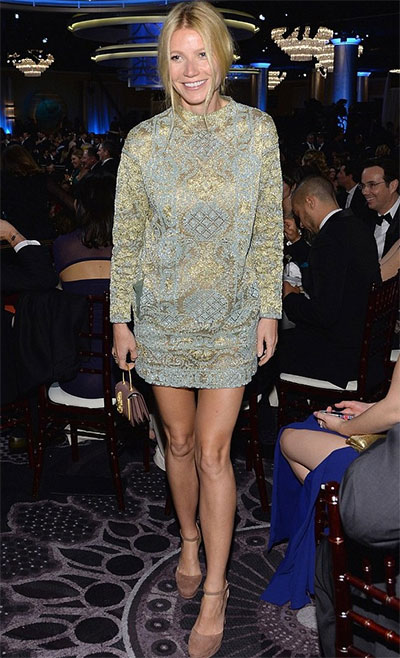 Oh dear! If ever there were a fab to drab transformation, this peculiar look from Gwyneth Paltrow would certainly top the list. Attending the 2014 Golden Globes on Sunday with husband Chris Martin, Gwyneth cut a (sartorially speaking) sombre figure in a wash-out Resort 2014 Valentino mini dress.
Giving the red carpet walk a miss this year, the actress appeared as though she'd been put together last minute, with very little thought given to hair or makeup. OK, so she was probably going for the effortless, nonchalant look with her wispy down-do, but HULLO, these are the Golden Globes!
The pale blue and gold brocade dress hardly flatters Gwynie's awesome figure (even though it shows off her toned pins), and does no favours for her make-up free complexion, either. A slick of bright lipstick could've gone a long way here, Mrs. Martin!
Paired with suede Valentino platform pumps and a cute clutch bag, the accessories are certainly winners, but look dull pitched against the colour-drained dress. After all the frock-ery that went down on the GG red carpet – many of the looks making it onto our Best Dressed list – this was certainly not one of them. The only thing rescuing you here is that beaming smile, Gwyn…
What do you make of Gwyneth's look? Does it look like she couldn't be bothered? (Naughty.)
[Image]