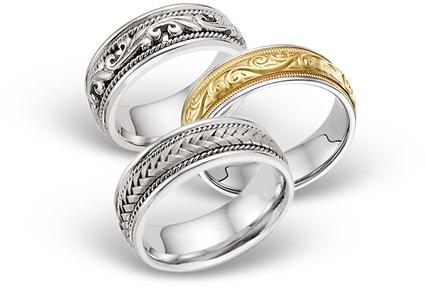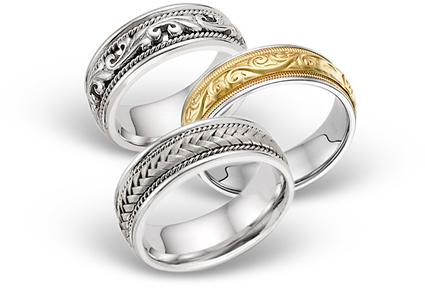 With Valentines day just around the corner there's no better time to reaffirm your love with a gorgeous wedding band. The wedding band is a unique Insignia of Love signifying marital bliss and eternal oneness. The wedding bands in metal assert the strength in the connection that is marriage.
Available in so many materials and designs wedding bands are multifarious and can cater to any taste, style or preference. Dating back to ancient times, from the ages of Egyptians to Colonial men, wedding bands were in vogue and reinforced a couples unfailing bond of love. But how to choose the right band for you and your partner can be tricky. Here's some guidelines to give you a helping hand along the way….
Types of Bands
You can find gorgeous wedding bands from ethical jewelers in any of the following categories:
Gold Wedding Bands
Conservative bands
Designer bridal bands
Bands with precious stones
How to Choose?
Ideally the wedding band must be in sync with your ring and your personal style. If you're more of a casual dresser opt for a simple and sophisticated wedding band. If you're the type that prefers to make a statement a bold wedding band may be best. The same goes for your partner – his wedding band should be compatible with his everyday style.
In terms of details gemstones, rubies, garnets and moonstones are special and ooze passion while blue sapphires are for loyalty. Pink sapphires or deep green emerald colours gives the wedding band that extra charm.
Where to Buy?
For a fabulous shopping of wedding jewellery, visit ApplesofGold.com where the finest wedding bands and rings are up for grabs. You cannot find any mass made stuff there as custom made items with exquisite care on quality and design adorn its offerings. In the gold wedding bands section you can find 14k and 18k gold wedding bands. Platinum and sterling silver bands are provided to order. For the more aesthetically oriented, a unique collection of precious metals are on offer which include titanium wedding bands. See their collection of wedding bands for some great options!