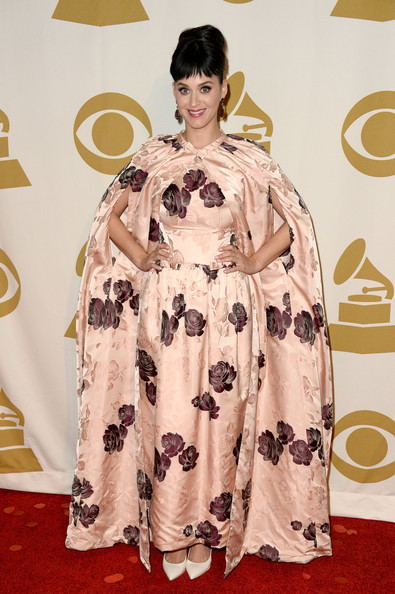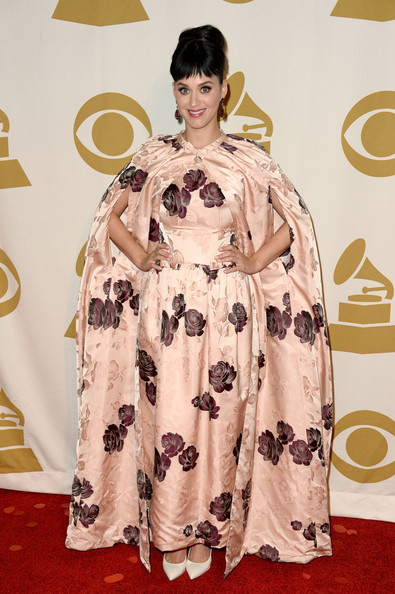 Every once in a while, something hideous unfolds on the celebrity red carpet and the image often stays with us for months to come. Such a crime towards fashion was committed by Katy Perry earlier this week, when she attended the The Night That Changed America: A Grammy Salute to the Beatles event in Los Angeles wearing a rather, erm, interesting Dolce & Gabbana ensemble.
Brace yourselves: welcome the lounge curtains-cum-caped crusader red carpet look – one we won't be warming to in the name of 'alternative style' anytime soon. The singer, who also performed at the event, wore a soft pink dress and matching cape (a drape, maybe?) with a burgundy floral print. Too garish, even by Ms. Perry's standards, and definitely not a look that oozes sexy glamour like her usual style; the train of thought behind this look is definitely a mystery
Accessorising the outfit with pale pink pumps and drop earrings, an updo with spiky bangs rounded up this rather awful (sorry, Katy!) look. Let's hope her styling team files this red carpet effort in the "never repeat" pile…
Are you with us on this WDOTW verdict?
[Image]