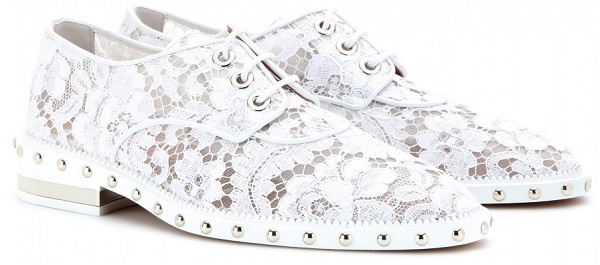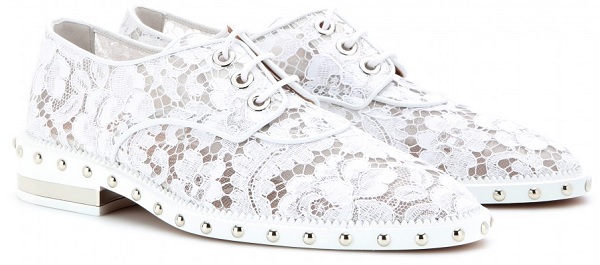 With spring slowly creeping upon us, lusting after somewhat impractical shoes is a given. And, this week we're digging these lush Givenchy studded lace oxfords (£904). Not quite up there with our wear-everyday foot gear just yet, but nevertheless, gorgeous enough to gawk at!
Bringing you well and truly out of winter's dull grip, the striking effect of polished silver studs against angelic white lace and a solid wooden sole gives these Givenchy oxfords immediate buy-me-now appeal, but will you take the plunge? Here's a little helping hand if you're stuck on parting with the pounds…
Yay
Spring-perfect: A great option if you're looking to update your new season wardrobe by way of statement-making shoes, without committing to a trend.
Flats: Well, traipsing around in heels all day isn't the most foot-friendly of options. Your feet will be utterly grateful for the style and comfort factor rolled into one!
Boy-meets-girls: The ever-present androgynous trend shows no sign of waning, and we're certainly not complaining. These Givenchy oxfords are the perfect mid-way fix for girls who love boyish style.
Nay
Colour: White. Need we say more?
Price: Sitting smug at £904, you'll have pretty feet, post-purchase. Shame the same can't be said for your finances…
Impractical option: Although they come with a stiff mesh lining to help maintain the shape, lace-enveloped shoes were never a good idea for protecting your feet. Suddenly, puddles and unpredictable downpours will become your worst enemies.
Givenchy studded lace oxfords, £904, available at My Theresa.