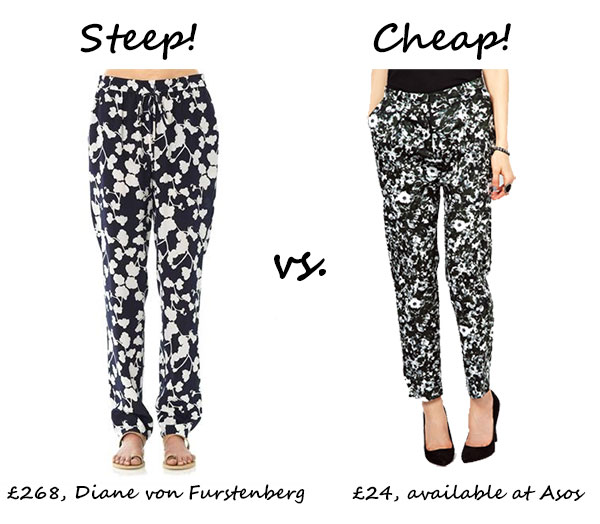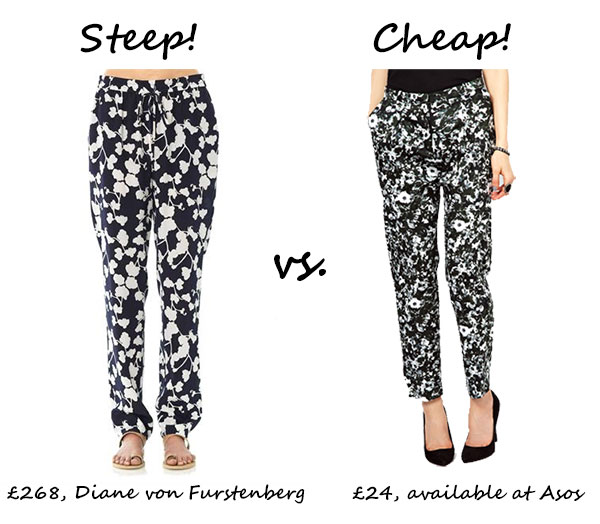 Hey spring, we see you! Well, sort of. Save for the recent blustery climes, we've long been dreaming up our new season wardrobes and, nothing quite says "See ya, winter" like a pair of print-splashed trousers.
Teasing us with easy-on-the-eye prints this week are the Steep vs. Cheap floral-print bottoms. Whether you're looking to go all-out, or to curb your spending habit, this week's options are guaranteed to make you part with that hard-earned cash. Did someone say investment?
Yep. If investment is your done thing, then look no further than Diane von Furstenberg's luxe Benet Two silk trousers (£268). Splashed in a nautical floral print, they'll elevate off-duty style to spring-appropriate levels; and the flattering hues make them a dream to pair with your wider wardrobe. We're wearing ours with a louche white tank and spring-perfect flats.
Seeing red (literally) when spying the Steep version? Worry over, because we've tracked down an equally cool pair of printed trews for a fraction of the price. Get your power flower fix at Asos, where you can pick the Just Female floral-printed trousers for a not-so-princely £24. Now that's a fashionably frugal result!
Will you save or splurge?
Steep: Diane von Furstenberg Benett Two silk trousers, £268, available at Matches Fashion.
Cheap: Just Female flower printed trousers, £24, available at Asos.