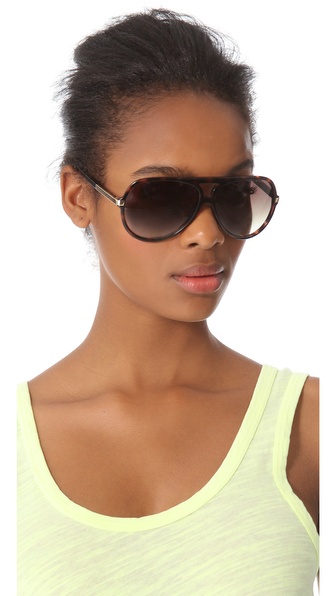 Please tell us it's sunglasses weather!
We know that it probably isn't sunglasses weather just by looking out the window, but that doesn't mean that we shouldn't shop for sun-blocking-out tools for when the sun does finally decide to make its overdue appearance. It's always good to be prepared, isn't that what we were all taught from an early age?
So, why not splash out on these gorgeous Marc by Marc Jacobs oversized aviator sunglasses? Not only are they perfect for serving their primary purpose, i.e. keeping the sun out of our eyes, but they're the perfect accessory to finish off a super-stylish outfit.
Sunglasses of any description are also fantastic for hiding tired eyes – whether they're tired from one too many cocktails the night before, or working too hard in the office.
These Marc by Marc Jacobs oversized aviator sunnies feature a plastic frame and gradient lenses, cutout detailing at the bridge and logo lettering on the upper left lens as well as a logo plate at the temples. After all, you want people to know who you're wearing, right?