Last Updated on 21st February 2014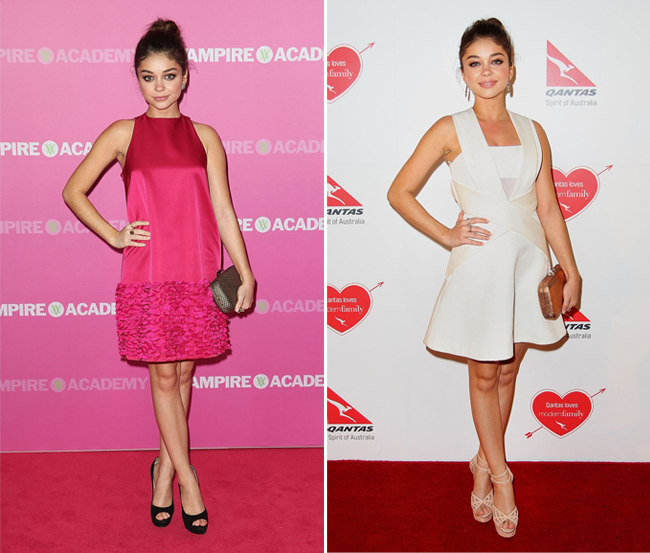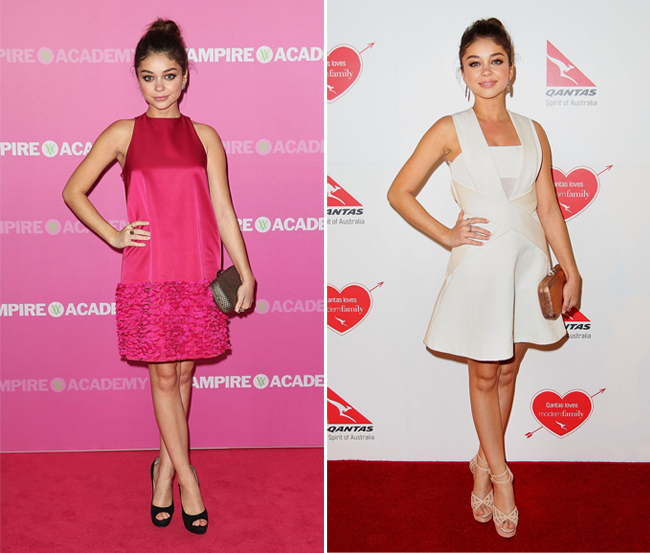 There's always a danger of young Hollywood actresses dressing older than their years when waking the red carpet, especially if they've been walking it for quite a few years.
However, Modern Family's Sarah Hyland certainly knows what she's doing as far as her big appearances are concerned, as she looked positively flawless on two separate occasions in two stand out dresses that complemented her enviable figure, were age appropriate, and showcased her fashion credentials all in one go! That's not too much to ask, is it?
Sarah looked like a modern day Princess in a high-neck Temperley London dress while attending the Vampire Academy premiere in Sydney, and didn't even let a little thing like a matching pink background wash her out. The black peep-toe pumps added edge to her girlie look, and the elegant bun juxtaposed the dress wonderfully. Top  marks!
While in Sydney, Sarah also attended the Modern Family photocall, once again choosing an age-appropriate, fun and flirty dress – this time from Camilla & Marc – with a cute hemline for the occasion. We know that she has some luscious locks on her head, but she once again chose to focus the attention on her dress and wonderfully flawless make-up by going for a simple up-do. We think it was the right decision; do you?
We have no complaints with either of these looks; we love how she has blossomed into a red carpet champ over the years, and we can't wait to see what she comes up with next!