Last Updated on 26th February 2014
Here it is, the last day of Milan Fashion Week for yet another season, and the King of MFW, or should we say it's saviour, Mr Giorgio Armani, ensured that he gave everyone something to talk about. And it wasn't just what happened on the catwalk – but more on that later.
The collection – entitled "fade to grey" – did pretty much what it said on the tin; grey is the new colour of the season in Giorgio Armani's world, with a hint of lime green added in there for a splash of much-needed colour. Cropped trousers, pleats, elegant evening dresses that wouldn't be out of place on this weekend's Oscars red carpet. We hope to see Cate Blanchett, who is the face of the Si Giorgio Armani fragrance, in one of the floor-length dresses from this collection.
So what else happened at the Giorgio Armani show that ruffled a few feathers? Well it wasn't something that happened, it was actually something that didn't happen! Anna Wintour decided to give the Giorgio Armani show a miss and ready herself for the Paris Fashion Week action, and Giorgio Armani was very vocal about his opinions on it. He was less than happy, let's put it that way!
"There are some who prefer to snub the Giorgio Armani show and go to Paris," he said at a press conference after the show. "She took an airplane, dumped Mr. Armani and went to Paris." Ouch!
Anna Wintour's people tried to do damage control though…
"Anna has the greatest respect for Giorgio Armani and everything he has done for Italy and fashion worldwide," said Anna's representative at Condé Nast . "Unfortunately, with the fashion calendar now running for more than a month, there are some shows that Anna is not able to attend."
Let's hope Giorgio Armani and Anna Wintour kiss and make-up sooner rather than later!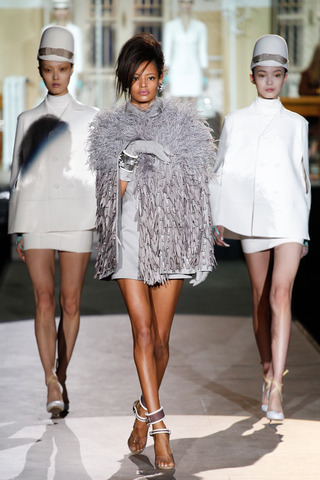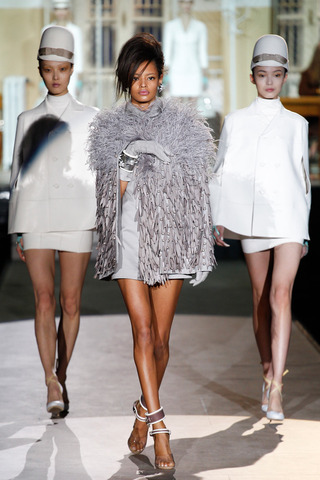 Dean and Dan Caten, otherwise known as the DSQUARED² designers, also showed their autumn/winter 2014 collection on the last day of Milan Fashion Week. The twin brothers were influenced by all things sixties, and presented a retro collection comprised of vivid colours, capes, snakeskin, leopard print shift dresses and an abundance of bows and feathers.
The show itself was also quite the spectacle, as the audience was treated to a show with an interesting backstory. We won't confuse you too much, but it basically involves a glamorous protagonist entering a psychiatric ward after seemingly losing her mind (it's quite Girl, Interrupted if you ask us!) but recalling a fabulous vintage wardrobe while banged up. We think. Now, onto Paris!
[Image]