Last Updated on 27th February 2014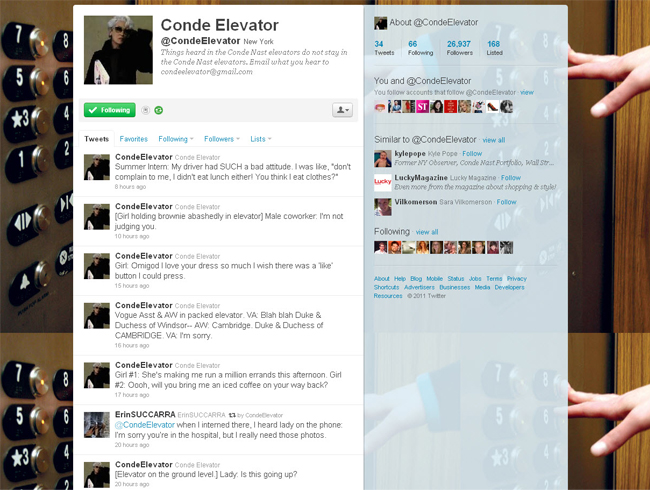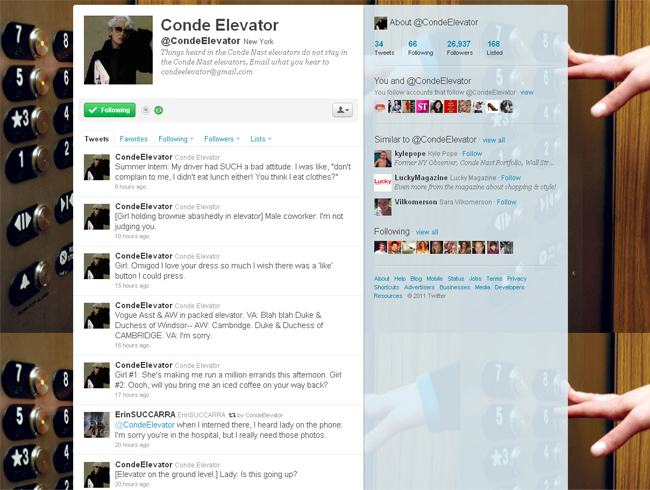 Remember the hilarious @CondeElevator Twitter account that broadcasted what went on in the Condé Nast's US lifts that had to be shut down after just five days? Well, the person behind it has finally been revealed… and it just so happened to be the former editor of GQ US, Lauren Bans.
"I was at a bar after work with co-workers, and we were joking about something someone had overheard in the elevators that day," she said. " I think it was a lady seeing another lady's cup of carrot sticks, and saying so enthusiastically, "That looks delicious!" I've never been so psyched on carrots, or any raw vegetables, so it struck me as funny.
"I brought it up that night over drinks-like, wouldn't it be funny if there was a Twitter account for this? And I think I started it that night after work."
The Conde Elevator provided us with some hilarious snippets, from the classic, "I don't understand why she was so pissed. I'd want to know if something made me look fat" to "My driver had SUCH a bad attitude. I was like, 'don't complain to me, I didn't eat lunch either! You think I eat clothes?'" to all else in-between.
RIP Conde Elevator – it was good while it lasted!