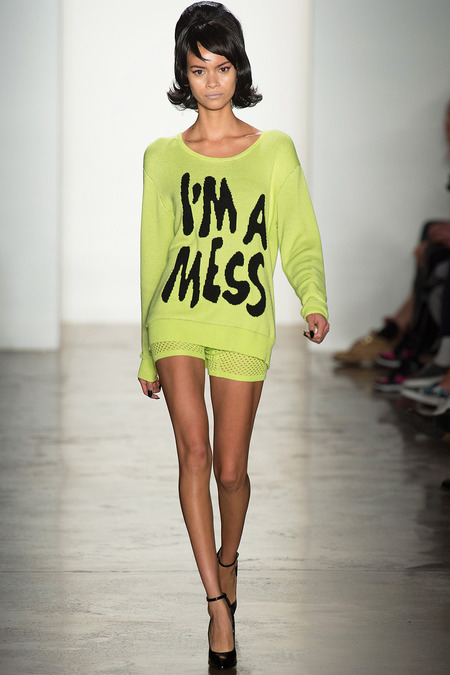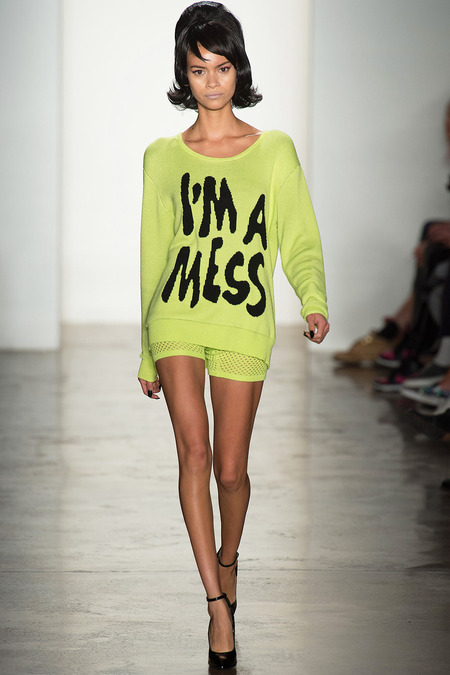 Imagine something you hold so close to your heart taken away, replicated a million and one times (substandardly), then force-fed to the masses? Something like this, sadly, happened to the inimitable Isabel Marant. In an article by Fashionista, Marant reflects (read: complains) on the effect of her reigning wedge sneaker being replicated, rather recklessly, by the High Street and other designers.
Referring to the rip-offs as "super-ugly," the designer said:
"I don't wear them as often as I [used to] because I see too [many bad copies] in the street. I'm not saying mine are the most beautiful shoes, but they have a certain [style]. And on the weekends, I'm so happy to have them because I feel so good in them. I don't want to throw them out."
Sad times for Bobby et Betty, non? After all, she's the master behind that Parisian cool-girl aesthetic every fashion girl and her mother seek to emulate. And, although she's still "selling a lot," the far-reaching consequences of High Street copies is a heavyhearted tale – even for seasoned designers, whom all know the fate of a bestseller.
So, as an aid to soothe Madame Marant's heartache over her beloved leg-lengtheners being cloned by the dozen, we've picked out five other runway hits that exploded onto the high street, took over our wardrobes, and left a bad taste in their designer parents' mouths. Read on, High Street lovers.
Slogan tees: We blame the Acne and 3.1 Phillip Lim spring/summer 2013 shows for planting the seed of slogan tee addiction in our minds. After their runway debut, the likes of New Look and ASOS got in on the action, too. The result: more 'meh' than look-at-me
Leopard print: Oh, this is a fine animal-print line to tread. Running the gamut from doable to outright tacky, leopard print has enjoyed more than a moment on the runway for several seasons now. But when the High Street muscled in on the spotty action (natch), some of the results weren't as luxurious as we'd hoped.
Beanie hats: These became the cover up du jour for the frizz-hating, fashion-obsessed posse: House of Holland's rhinestone-encrusted version had us all starry-eyed, while Jil Sander's veiled beanie did the street style rounds like a pap-hungry D-list celebrity (although said hat was undoubtedly A-list). When the High Street caught wind, obscene wordplay on designer names and tacky embellishment took over.
Monochrome ruffles: Did someone say "Zara" very, very quietly? Balenciaga-esque ruffles and the monochrome trend from Nicholas Ghesquière final collection for the fashion house were translated so fiercely by the Spanish High Street retailer, we didn't know where Ghesquière began and Inditex ended.
Sweatshirts: Kenzo, you created a monster! Well, actually, before every trend worshipper started to live in their tiger embroidered sweatshirt 24/7, Balenciaga's autumn/winter 2012 collection had already ignited our preoccupation with boardroom-galactica sweatshirts. Then, H&M, Zara and ASOS waded in with cut-price creations and POOF; the novel exclusivity factor had vanished faster than a UFO sighting. Pun totally intended.
Don't get us wrong; we love, love, love the High Street. But sometimes, a trend stretched too far can have the opposite effect and make the early adopters regret their eager purchases, forcing them do away with their trend-starting garbs before you can even say 'new season.'
[Image: Style.com]