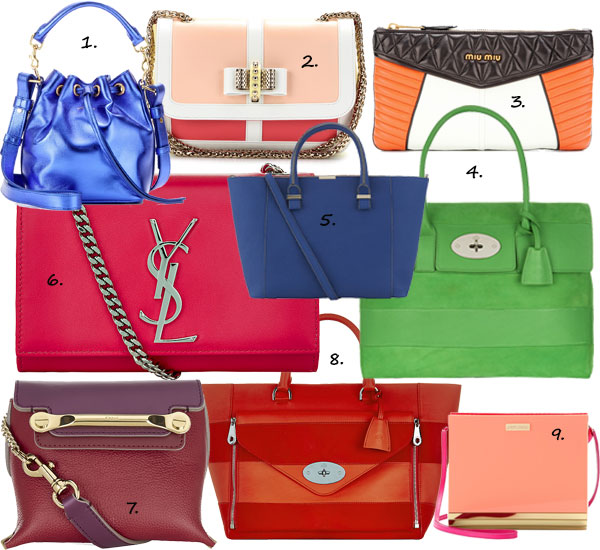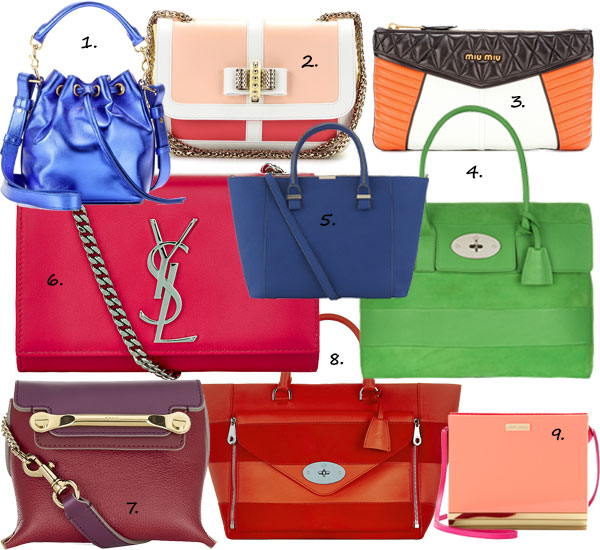 Spring/summer 2014 was a riotous affair, full of eye-popping prints, bold shapes and all manner of Technicolor goodness. So, naturally, not content with letting our clothes speak for themselves, we decided to up the statement-making factor with a line-up of accessories that scream 'I'm no wallflower!'
From electric blues to fiery pinks and flattering hardware detail to spacious insides; these are the bags guaranteed to serve as conversation-starters for several seasons to come. If fashion is all about having fun, then this definitive guide to attention seeking arm candy will keep the good times rollin', that's for sure.
Go on, click through. (You know you want to!)
1. The nifty, night out option
Bucket bags are big this season, and when they're sprayed in a delish metallic blue and hail from the house of Saint Laurent; we're in! Saint Laurent Small Bucket leather drawstring tote, £863, My Theresa.
2. The ultra-feminine investment
Twee, but with a tasteful twist? The small leather shoulder bag from our favourite shoe couturier sums that up nicely! Christian Louboutin Sweet Charity shoulder bag, £1,095, My Theresa.
3. The fuss-free clutch
Yeah, yeah, who cared for shoulder straps and handles anyway! Miu Miu matelassé leather clutch, £680, My Theresa.
4. The statement tote
A luxe, colour-rich update makes this Bayswater classic even more desirable! Mulberry nubuck and suede striped Bayswater tote, £1,350, Harrods.
5. The hardworking tote
Just like the lady herself, this Victoria Beckham tote won't let you down. Victoria Beckham Quincy tote, £795, Harrods.
6. The power player
Sky-high shock value is certainly the case for this eye-catching satchel. Saint Laurent small monogramme satchel, £1,005, Harrods.
7. The pretty-yet-practical crossbody
Perfect for city strollin', brunchin' and pretty much everything else. Chloé mini Clare crossbody bag, £885, Harrods.
8. The summer-perfect tote
We wouldn't mind holidaying with Willow – she's so generous! Mulberry calf hair stripe Willow tote, £2,500, Harrods.
9. The party lover's perfect partner
Not into oversized arm candy? This clutch with a handy strap will suit you just fine. Jimmy Choo Chill snake-trimmed clutch, £695, My Theresa.