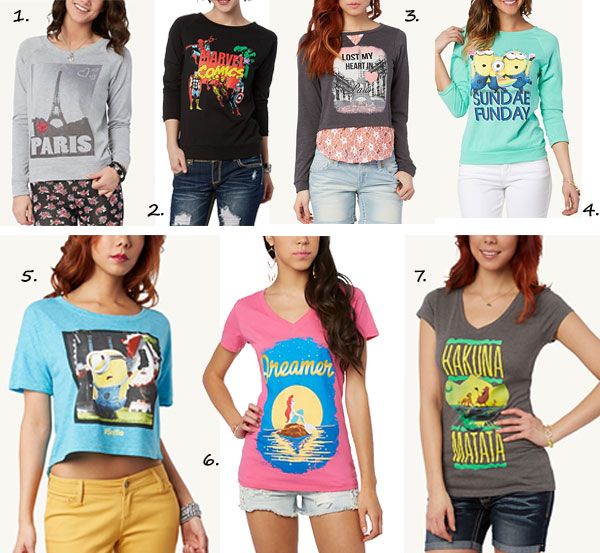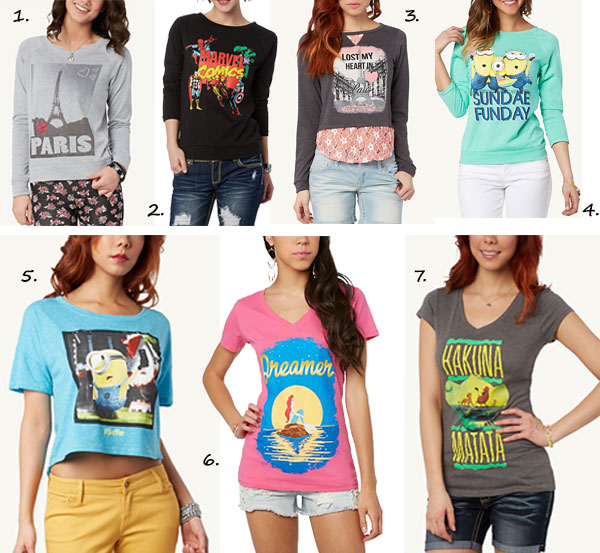 Go on, make a statement…
Cast your mind over the past few seasons of fashion, and you'll notice a running theme: everything is getting bigger, bolder and a whole lot more interesting. Fashion's renewed interest in making a statement by moving away from the minimal, clean lines brands such as Céline and Chloé introduced us to, has had a positive impact on the way we choose to express the more, well, laid-back side of life.
rue21: Your crazy tee stop…
So, as an ode to the darling of recent seasons – the statement tee – we've picked out a range of graphic tees from rue21 to suit all budgets – and all tastes in loud, look-at-me tees! Your one-stop shop for everything from festival footwear to pretty dresses and spring-perfect shorts, rue21 embodies the free-spirited style of one of the best times in our lives – being 21!
Of course, being 21 isn't a prerequisite to shopping these hot wares, and we're pretty sure the line-up of graphic tees for Gals carried by rue21 will have you reaching for your purse in 30 seconds flat.
Clickety-click.
1. The perfect, off-duty way to feeling a little more Parisian: I Heart Paris sweatshirt, $19.99
2. Revel in your comic-loving tomboy years by pairing this superhero sweat with boyfriend jeans and heels: Marvel Comics raglan top, $19.99
3. Mix it up and add a dressier edge to your look by pairing this pretty pullover with palazzo pants: Lace Paris pullover, $18.99
4. It couldn't possibly be more fun than this, literally: Sundae Funday Minions pullover, $18.99
5. Tap into social trends by pairing this selfie crop tee with high waisted jeans: Selfie crop high low tee, $14.99
6. Like all things pink, cutesy, but a little out there? You'll love this: Heart slash back Ariel tee, $16.99
7. This tee pretty much sums up the motto to live by: Neon Hakuna Matata tee, $12.99