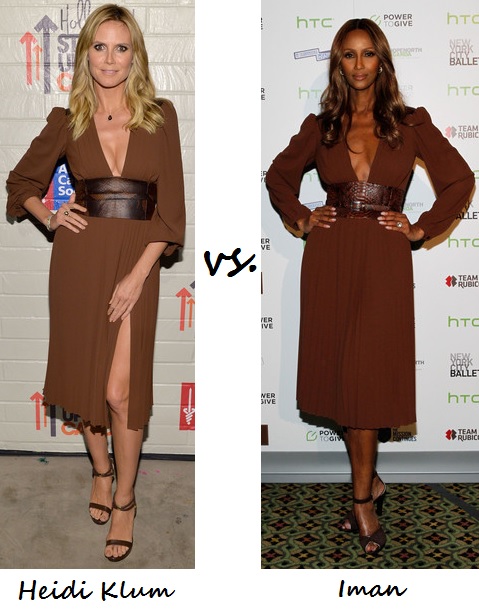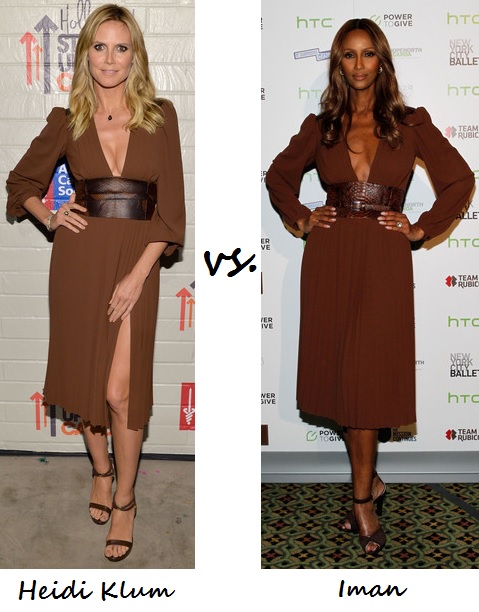 What do you do when two [super]-duper models turn up in the same dress? Luckily it wasn't to the same event, but this week, models Iman and Heidi Klum have got us in a same dress-induced tizzy.
First up: Heidi, who wore an earthy brown belted dress from the Michael Kors spring/summer 2014 collection, to the Hollywood Stands Up To Cancer event back in January. Featuring a billowy blouse and pleated skirt, the dress sported two rather daring slits—one displaying an ample amount of cleavage, the other bringing some thigh-high action!
Accessorising with strappy sandals, a wide waisted belt and soft curls; dark eyes and neutral make-up rounded up Heidi's look.
Catching up with the Germany's Next Top Model judge in the style stakes is a supermodel that needs no surname for her introduction: Iman! The stunning runway veteran attended the Variety Power of Women New York luncheon, in April, wearing the same dress. Iman, too, accessorised her look with open toe sandals and a matching clutch; but it was her glossy caramel locks we couldn't quite keep our eyes off!
Equally stunning, both Heidi and Iman brought their A-game to this frock-off. But, sadly, there can only be one winner, and this week we're going with…Iman! Heidi, you look a million dollars, but remember the boobs vs. thigh rule? It's one or the other, not both! Iman's demure approach wins this time.
Do you agree with out style verdict? Whose look wins for you?