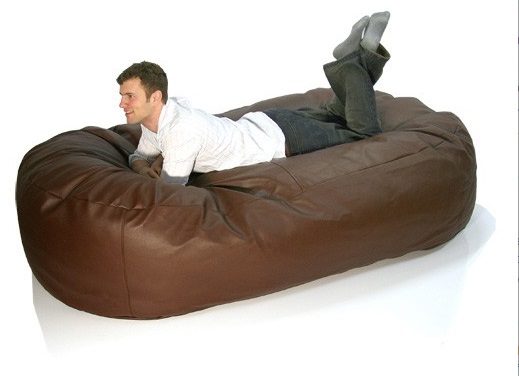 Live in a bachelor pad? Then you need a bean bag.
Here's eight reasons why:
#1 One Man. One Chair.
When you've got a bean bag you don't need a chair for dinner, a seat for gaming and a sofa for chilling out or entertaining a lady on.
One bean bag does it all, and if you get a really big one, you can use it instead of a regular bed too.
See – that's just reason one, and already you've saved thousands on furniture and the floorspace it all eats up. A bean bag just put more money in your bank and more space in your pad.
But there's more. With a bean bag you can…
#2 Be Your Own Boss
Steer clear of convention. Don't let regular chairs and couches with their stiff arms and rigid frames tell you how to sit. Get a bean bag and slounge your way.
#3 Ditch the Cushions
A regular couch says cushions, and cushions, particularly if they look plump and tidy, says you still let your mum in to clean up and look after you.
A bean bag is a cushion. You plump it by laying on it. Job done. And even if your mum does pop round, does a dish or two and lays on it herself, no-one will be any the wiser.
A bean bag makes your bachelor pad feel like a mum-free zone.
#4 Safety Features
You cannot stub your toe on a bean bag.
#5 Make Repairs
Unlike couches or armchairs, bean bags very rarely break or lose their feel appeal and if they do, the damaged parts are easily fixed or replaced.
A new cover or bag of beans makes them look like new and is much cheaper than a trip to a furniture store, even on a Bank Holiday when the biggest sale ever is on.
#6 Girl's Love Them
No-one wants to get off a bean bag, so when you take the ladies back to your pad, you're likely to find they stay longer. They love the squishiness. Just don't get a pink one.
#7 They're Easy to Clean
Ok, so the potential for cleanliness when you're shopping might not be the first thing that you look for, but no-one will want to come and hang out at your place on stained, sticky furniture.
A bean bag is easy to clean. Spill something on it, take the cover off and stick it in the wash, easy.
And in the worst case scenario, say, a curry or bottle of red getting sloshed with wild abandon onto a white bean bag, you can just flip it over and pretend it's not there while you wait for a replacement cover to arrive in the post.
You can of course flip over a couch, but it's not quite as comfy.
#8 Style
You can get a bean bag in almost any shape, size or colour to suit your place and if you can't find one, you can get one made to order.
There you have it. Bean bags are the best piece of furniture for any bachelor, by far.
You can get yours at Great BeanBags online.