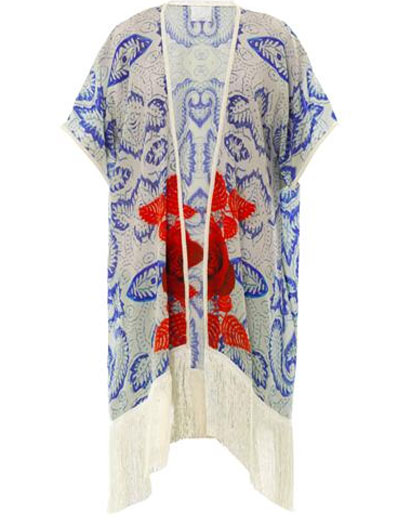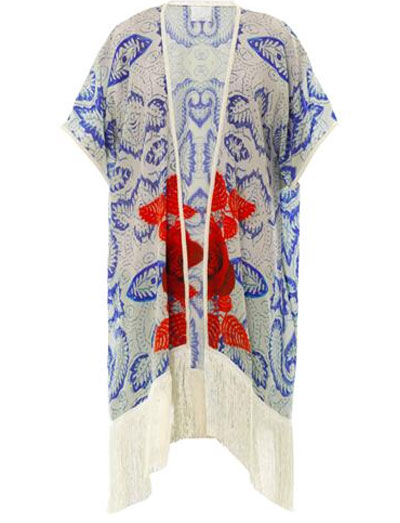 We love it because…
It signals the official arrival of warmer weather! Nothing feels more liberating than ditching a double layered jacket to slip on something a little more summer-appropriate, and this Athena Procopiou silk cover-up (£475) certainly hits the sartorial spot.
It's a YAY for…
Lightweight: crafted in Italy from delicate crepe de Chine silk, the Palampore cover-up is perfect for dressing up on balmy summer nights. The pretty fringe detail is an added embellishment bonus, too!
Print: The standout, striking red flower-girl print has been designed in-house, and wouldn't look out of place against a pretty white summer dress.
2-in-1 investment: Slip it over your bikini, or wear it over jeans, a tee and flat sandals for the perfect summer outfit—you won't run out of styling options for this ideal cover-up.
And a NAY for…
Dry clean only: Being cut from luxurious silk does have its downsides: the Palampore cover-up is dry clean only, which means befriending the local dry cleaner to keep the costly cleaning bills at bay.
Price: At £475 a pop, the Palampore cover-up isn't the cheapest summer investment. Figure out how you can re-style the cover-up through the seasons, and make sure you stock up on basics to make it work easily for day –not just for the beach.
Athena Procopiou Palampore flower girl-print silk cover-up, £475, available at Matches Fashion