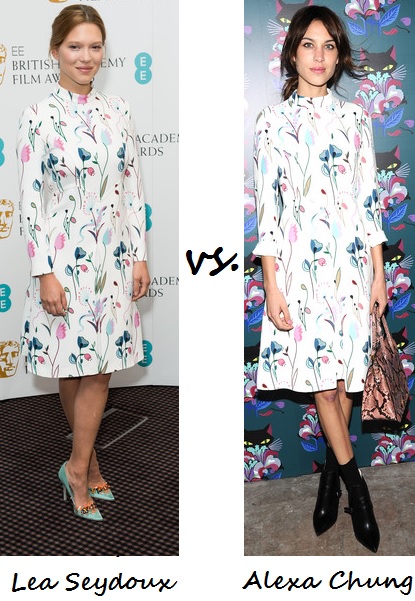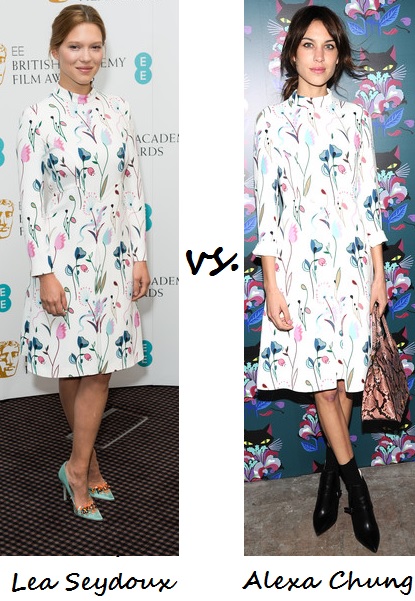 Faced with two exceptionally well-dressed women, the decision to pick a winner is never easy. This week, making us tear our hair out (dramatic, we know) are Lea Seydoux and Alexa Chung in the same spring 2014 Miu Miu dress.
On the one hand we have a chic Frenchie, who loves nothing more than oozing that je ne sai quoi with every red carpet look she sports; on the other, a Brit famed worldwide for her threw-it-together-and-walked-outta-the-house approach to dressing. Tough one, no?
Getting first dibs on the pretty printed number was Lea, who wore it to the  EE Rising Star award nominations photo call back in January. Styled with embellished Miu Miu pumps, a simple, centre-parted hairdo and minimal make-up, Lea's look made for striking eye-opener at the event.
Alexa gave the dress its second outing, at the Miu Miu Women's Tales 7th Edition – Spark & Light screening in February, in New York City. The long-limbed beauty naturally put her stamp on the ultra-feminine look, by accessorising with a snake-print bag and pointy black boots. A causal, low-slung pony tail and her signature liner-flicked eyes completed the look.
So, whose look comes out top? Both ladies look exceptionally polished in their own ways, but we're going to give this one to…wait for it…Alexa! Surprised? Well, Lea's look may be the prim way to do a floral-print dress, but Alexa brings a certain daytime quality to her look; we can imagine styling it this way for the office, but we'd swap the salmon coloured bag for a teeny black shoulder bag.
Thoughts? Whose look are you diggin'?