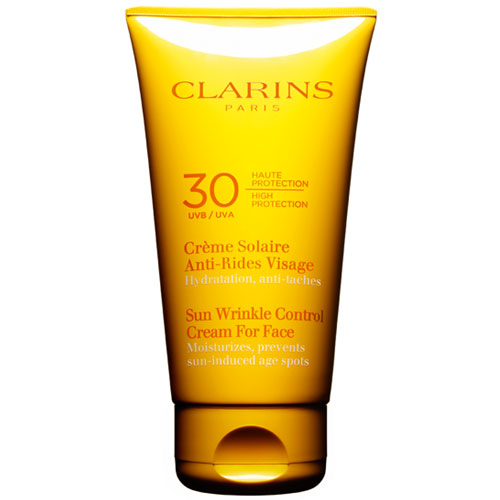 On a scorching day like today, you can't blame us for thinking about the sunshine. And not a lot else.
Although the sun makes most of us look and feel fantastic, we aren't naïve, and know that there are some downsides to the big yellow thing in the sky too. But instead of hiding away from it under a big albeit very stylish umbrella, we've decided to embrace it by being fully prepared for it. And nothing says sun prep better than applying Clarins sun wrinkle control cream to your face before heading out.
Tried and tested, the Clarins sun wrinkle control cream does exactly what it says on the tin. Or bright yellow tube, if we're being really literal. It's a sun protector and anti ager all in one, with heat-resistant UVA and UVB filters, and glides on your face and neck effortlessly without making you look or feel greasy.
So, get your face in the sun and soak up those rays to get your much-needed Vitamin D without worrying about the damage it'll do to your skin in the future. The cream comes in a variety of different sun protection factors (50, 30 and 15), but we'd advise going high if you're particularly sun-sensitive or are heading to sunnier climes this summer. We'd still recommend a good 30 for this country too; don't underestimate the UK's sun!