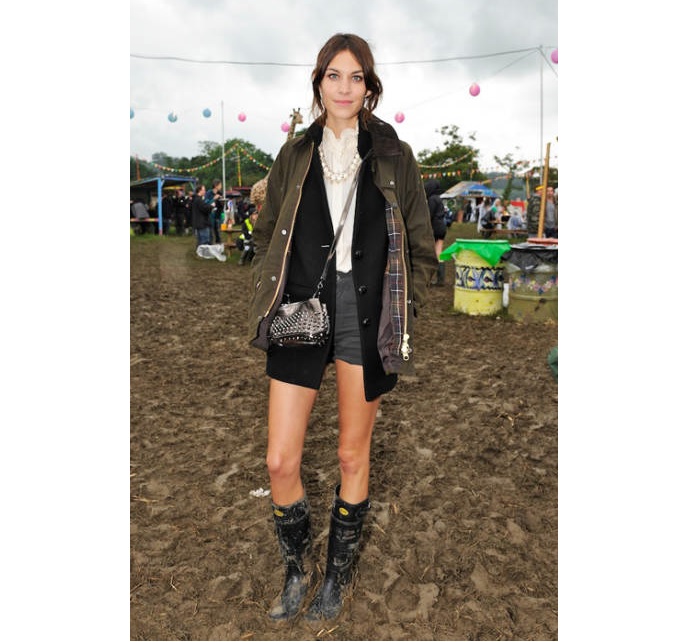 The Barbour jacket – it's as quintessentially English as Big Ben and Pimms. While this iconic brand was once the uniform of rural aristocracy (think polo playing girls and pigeon shooting gents), a growing celebrity fan base including Kate Middleton, Little Mix's Perrie Edwards, Alexa Chung and former boyfriend Alex Turner have made it both mainstream and seriously cool. The trend is showing no sign of losing its appeal. With everyone wearing theirs a little differently, the Barbour is not only a style must-have, but a very flexible one too.
Countryside chic
Princess Diana can be credited with single-handedly bring the Barbour jacket to the masses. Wearing a green Barbour for a more casual, relaxed look, she was the poster girl for the fabulous 'Sloane Ranger' look that would later lead to a rise in sales of not only Barbour but Harris Tweed and Hunter wellingtons. Still a strong look for strolling in the great outdoors, wear the green Barbour with a thick knit jumper and high-waisted tweeds.
Girly cool
Back in 2007 Lily was at the forefront of the new Barbour wave, wearing her waxed Barbour jacket over a hoody and bright pink dress throughout her performance at Glastonbury. Instantly making Barbour accessible and effortlessly cool, a whole host of celebs followed suit and built Barbour into their festival fashions, and later into urban wear too. Make like Fearne Cotton and Alexa Chung by teaming the classic black waxed Barbour with cord collar with short, girly dresses or A-line skirts.
Smart and masculine
And if you thought Barbour was just for the ladies, think again. When Daniel Craig donned the Beacon Heritage Sports Jacket in Skyfall, sales of the jacket soared as bloggers and internet fashionistas waxed lyrical about how an already hot Mr Bond looked even hotter. The jacket was the result of a collaboration with Japanese designer Tokihito Yoshida and includes the trademark tartan lining with a sylkoil wax outer layer. Perfect for a casual weekend walking, or indeed hunting down evil baddies. Barbour's pieces for men now include a range celebrating stylish 1950s movie star Steve McQueen, who was a fan of the original brown Barbour motorcycle jacket. These relaxed jackets look great with chambray or button down oxford shirts.
Barbour doesn't look like it is going anywhere any time soon, as the high street churns out new ranges of impressive imitation jackets and coats. But experts will tell you that the true Barbour jacket has a look and feel that is totally unique. They're not cheap, but it's one essential wardrobe piece well worth the splurge. Just ask the celebs.