Last Updated on 6th July 2015
If you're going on holiday this season, or perhaps you just want to lap up the rare British sun that's finally revealing itself, then you'll need a new summer wardrobe. Here you'll discover gorgeous beachwear that'll have you looking fashion-forward whilst soaking up the sun, and you won't even have to spend a fortune!
It's all very well putting on a bikini and heading to the beach with a towel draped over you, however, it doesn't gain you any brownie points in the fashion stakes. If you want to look like you were born to be on the beach, be sure to kit yourself out in these seaside essentials.
A kimono flaunts an effortlessly chic look that is functional but fashionable. Fancy taking a walk further up the beach to get an ice cream? Forget trying to squeeze your sticky body into sand-covered shorts, simply throw on a kimono and you'll be good to go.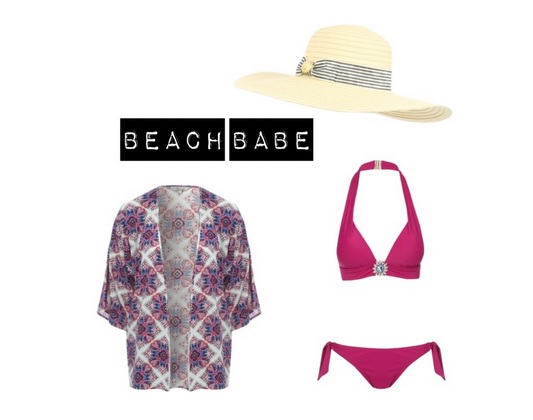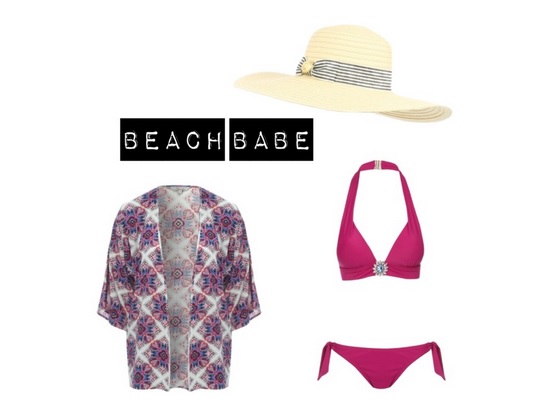 Clockwise from left: Short Kimono | Nautical Band Floppy Hat |Halterneck Bikini Set,
Go for bold and you'll no doubt turn heads on the beach. This raspberry number is fun, feminine and on trend for SS15.
And don't forget a sunhat. It's unlikely you'll forget to smother your skin in sun lotion, but your scalp needs protection too. This nautical band floppy hat will shield you from the sun whilst also providing you with a stylish accessory.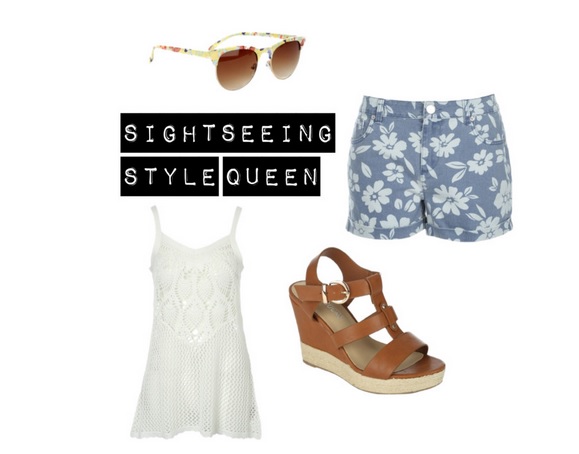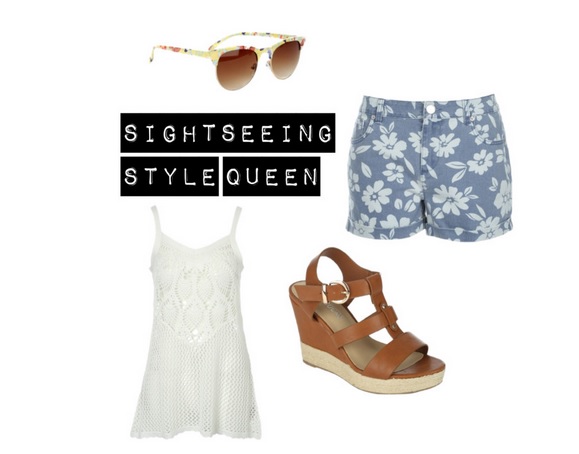 Clockwise from left: Crochet Jumper Vest | Printed Sunglasses |Printed Denim Shorts |  Gladiator Style Wedge Sandals
When you're not on the sand, what can you wear whilst you're exploring your holiday destination, or walking off your lunch in the glorious sun? Shorts are the way forward. Why? Well, you get to show off those pins of yours whilst also maximising your tan! These floral-printed denim shorts are one step ahead from plain daisy dukes, so you'll look up-to-the-minute without looking OTT for the day.
Team these shorts with a pair of gladiator-style wedges and you'll instantly add inches to your legs. And the best part? The wedge heel is oh-so-comfortable, so you can wear these beauties for hours without having to put up with painful feet.
Crochet is hot for 2015, so why not opt for a crochet vest to don in the day to jazz things up a bit? A cami is a summer must-have that's easy to throw on with shorts and skirts; amp it up a notch with a bit of detail and it'll look more than a 'plain old cami'.
Last but not least, don't forget to complete this look with a pair of sunnies! With bright floral printed frames and retro-tinted lenses, you'll look nothing but hot this summer.
So, do you wish to update your summer wardrobe without breaking the bank? At Peacocks, you'll find the above holiday essentials, as well as a wide selection of swimwear, accessories and more. Shop at Peacocks today and find the latest fashion styles for a snippet of the price.