Last Updated on 20th September 2019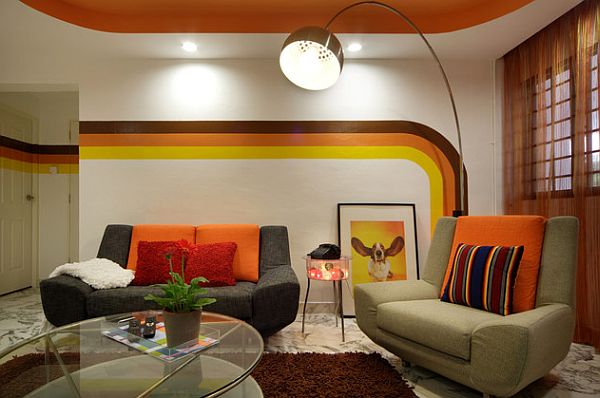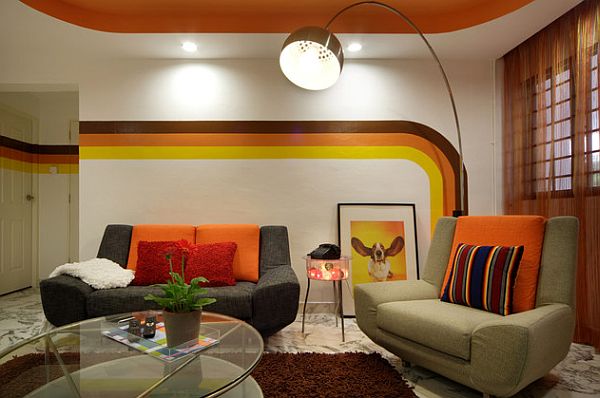 Those of us of a certain age who wore the afghan coat when it was definitely groovy to do so, will no doubt have no hesitation in getting all nostalgic about all the other items that are so firmly associated with the 1970's.
You can now back in time quicker than Austin Powers with a retro makeover of your home and there is definitely a groovy design revival for all things 70's. Many old trends are becoming popular again. As an example, personalized neon bar signs for home can help you get that 70s feel within your home. Allowing you to be surrounded by decor that makes you feel good
So if you really dig shag rugs, beaded curtains, flocked wallpaper and just about anything else that epitomised that fun and cool era which was the 1970's, her is your chance to retrofit your home 70's style.
Separating the groovy from the cringe worthy
Let's be honest, not everything in the 1970's was stylish and looking back at some of the designs that we used to wear makes you want to hide some of the photos, but some of the designs in our home were definitely super-cool.
Groovy and trendy 1970's houses featured plenty of strong curves and anything that wasn't circular was square in more ways than one. You only have to look at what was considered stylish then, such as round conversation pits, circular rugs and plenty of curves in all the right places and you can instantly see why interior designers find it easy to update the look with a contemporary scale for a modern home.
Certain things from every era are frankly a bit cringe worthy and deserve to stay firmly in the past, but some of the furniture and accessories that were considered groovy back then are rightly making a comeback, because they have still got what it takes.
Are you ready for a revival?
The first question you need to ask yourself is whether your house is ready for a 70's revival and retrofit?
This was the decade where bold new designs were introduced and orange was definitely the colour that dominated many so-called hippy generation homes, along with wood-veneer fireplaces, brown walls, lava lamps and plenty of trendy plastic furniture.
Take a look at what might work in your home and see how you can fully embrace the 1970's look but give it an appropriate contemporary twist for a very modern version of groovy.
Wood panelling, classic ceiling pendants that are reminiscent of the era and bold patterned wallpaper are just some of the design elements of the 1970's that are being used to create a stylish room with a distinctly retro feel to it.
Modern versions of design classics
One item that has been ever-present in our homes and are just as relevant to your design plans as they were back then, is the bean bag.
Check out Sackdaddy.com and sites like it and you will find a wide range of bean bags that will fit perfectly into your retro fit, as some things like bean bags never seem to go out of fashion.
Another classic that has been updated is grass cloth wall coverings. Back in the days when everyone's hair was long and sideburns were bold, grass cloth wall coverings adorned many a 1970's home, but tan and other shades of brown was pretty much your choice of colors.
These days you can choose from a wide range of colors and grass cloth wall coverings are definitely considered groovy by designers, who love the rich texture and warmth it brings to the room.
Metal makeover
Another feature of chic houses in the 1970's was chrome and brass and whilst chrome has managed to stick around and retain its popularity, brass was perceived by many homeowners as a bit gaudy by the time the time we reached the end of the decade and by the end of the 1980's, many of our brass fittings had been consigned to the dumpster.
Brass is now being used in much more sophisticated ways in our homes again so it is back on the cool list, and the combination of black and chrome might have been considered very much an integral part of a Jetson's-inspired futuristic design style back then, but it has stood the test of time as we arrived in that future and is still a great combination to use when working on your 1970's retrofit.
So get a bit of Lucite in your home and get those bold florals on the walls and the shag rug on the floor, for an authentic 1970's makeover that will make you want to get those flared pants out again.
Teresa B. Canon works for a large home decor retailer. She loves writing about home decorating and improvement. Her articles can be found on many homeowner and lifestyle websites.