Hairstyles for brides are constantly changing, and new styles are emerging every now and then. The days of complicated techniques and a couple of cans of hairspray to get tresses to stay in place have already passed for good.
On your wedding day, of course. you want to wear a stunning veil on top of a gorgeous hairstyle. With all the great hairstyles and veils out there, there's something suitable for you.
For classic and romantic wedding gowns, the bridal veil may be embroidered or feature lace details that complement the dress.
Otherwise, choose a more superficial, less elaborate veil if you've selected a modern wedding dress.
Here are a few DIY wedding hairstyles and veil trends that you can try on your wedding day: 
Elegant wedding hair updo with veil
Updos are a classic hairstyle for weddings, and for good reason. They look elegant and polished, and they can be pulled off with or without a veil. If you're interested in creating an elegant updo with a veil for your wedding day, there are a few things you'll need to keep in mind. First, make sure that your hair is clean and dry before you start styling. Next, create a smooth base by applying a small amount of serum or mousse to your hair. Then, begin to gather your hair into a low ponytail at the nape of your neck. If you're using a veil, this is the time to attach it. Once your hair is pulled back, start twisting it into a loose bun. Secure the bun with bobby pins, and then mist it with hairspray to keep everything in place. Finally, adjust the veil as desired and enjoy your beautiful updo!
Messy And Refined Hair Buns
A messy yet refined hair bun might be a good choice for you to try. To achieve this, simply pull out loose tendrils to give the hairstyle a more relaxed look, and which will make the veil and tiara the star of the show. This hairstyle also looks natural, ideal for a laid-back bride.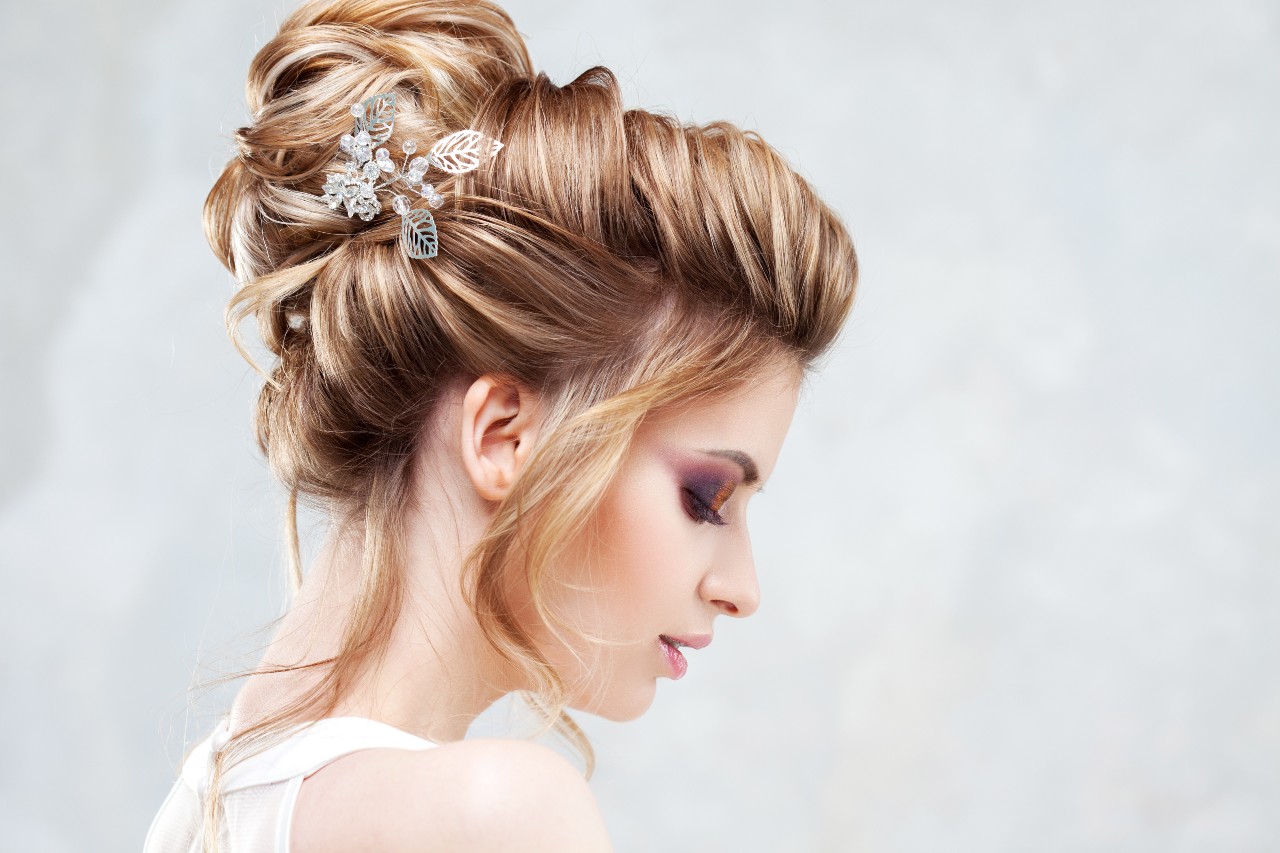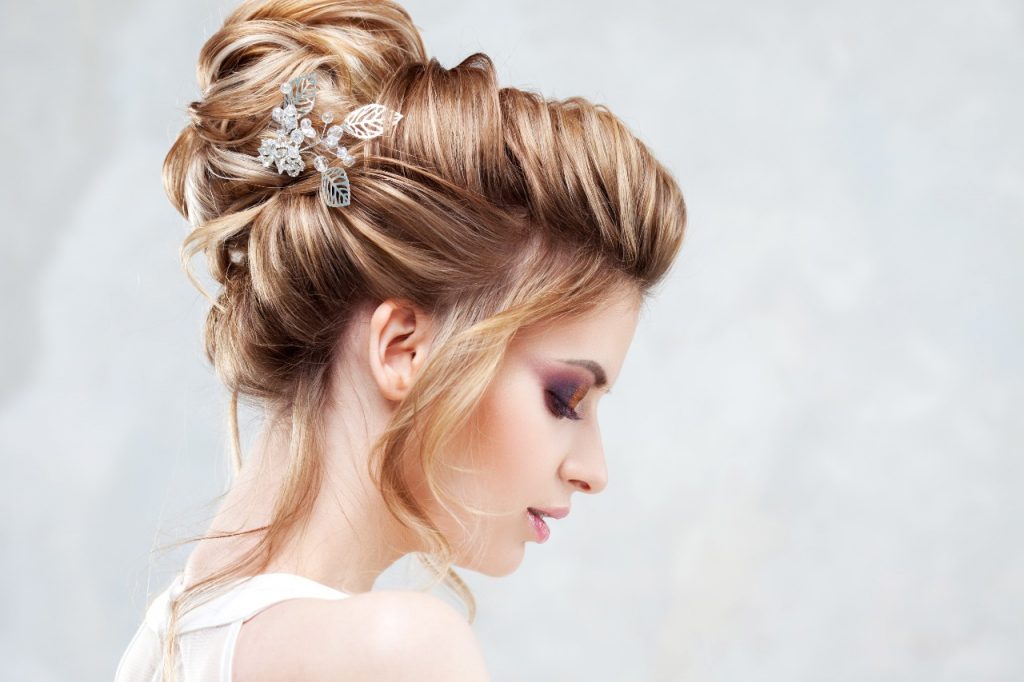 Half-Updo Braided With Flower Clips
It's even more special when the hair is braided every few inches. This way, the braid gains even more texture and becomes more distinct. Of course, don't forget to use a stunning hair accessory, such as flowers or pins for a romantic and whimsical vibe.
You can get a few flower accents from DIY wedding flower packages and get creative with them as you incorporate them into your entourage's hairstyles, too.
Simple Ponytail
This wedding hairstyle conveys subtle elegance. Although ponytails have gotten a bad rap for being bare, and they're usually the go-to style when one is in the mood for some lazy days and leisurely trips to the gym, you shouldn't let that stop you from getting creative. A little strategy is all it takes.
A simple ponytail with waves on the ends is a classic and never really goes out of style. Additional twists, wraps, textures, and volume on top will make your ponytail more appealing. Also, the perfect ponytail can sometimes be achieved with the right bling. The base of your ponytail can be wrapped in a metallic ribbon for a chic vibe.
Use A Birdcage Veil
Getting married during a pandemic will require you to wear a mask, so this veil style could be the best choice for you. It looks similar to a face shield because of its design. With a birdcage veil, you can achieve a bohemian look with waves.
Attached to one side of the hairstyle, it's most commonly made from tulle or net. This is a gorgeous veil that's perfect for brides who want a veil that doesn't require too much fuss. Also, it goes well with almost any hairstyle.
Apply a volumizing and moisturizing thermal protectant to dampen hair before using a round thermal brush and hairdryer. You can achieve volume and body from doing this process. This is ideal for venues with windy conditions wherein a long veil can be challenging to control.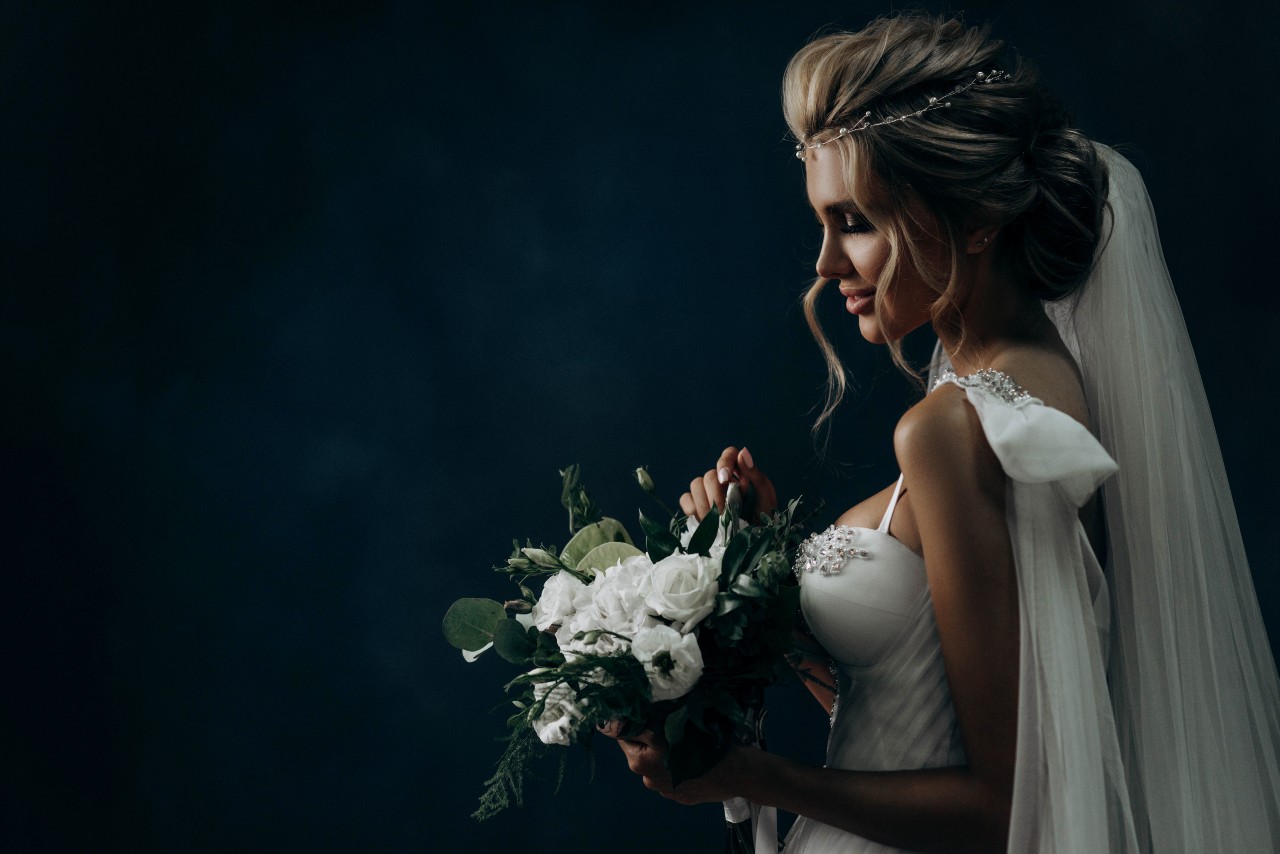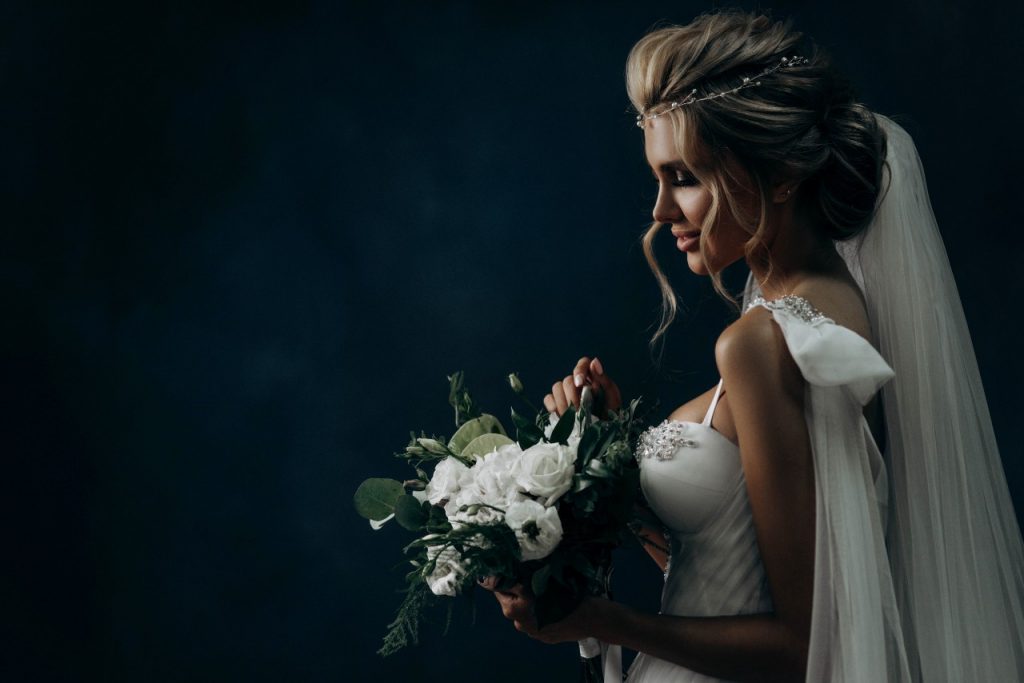 Use An Elbow-Length Veil
An elbow-length veil can look stunning with updo curls. With a simple crystal tiara, this would look even more stunning, appearing as if it's coming out from your bun, not to mention it's pretty easy to wear.
Conventional Braid
Wedding hairstyles like braids never go out of style. All-natural hairstyles look crazy good with a braid, whether straight, wavy, or curly. Recently, this classic hairstyle has experienced a resurgence in popularity. Stylists have been helping to cater to that interest, offering different ways to make a simple plait wedding-worthy, from soft and romantic to a classic wedding hairstyle with a twist.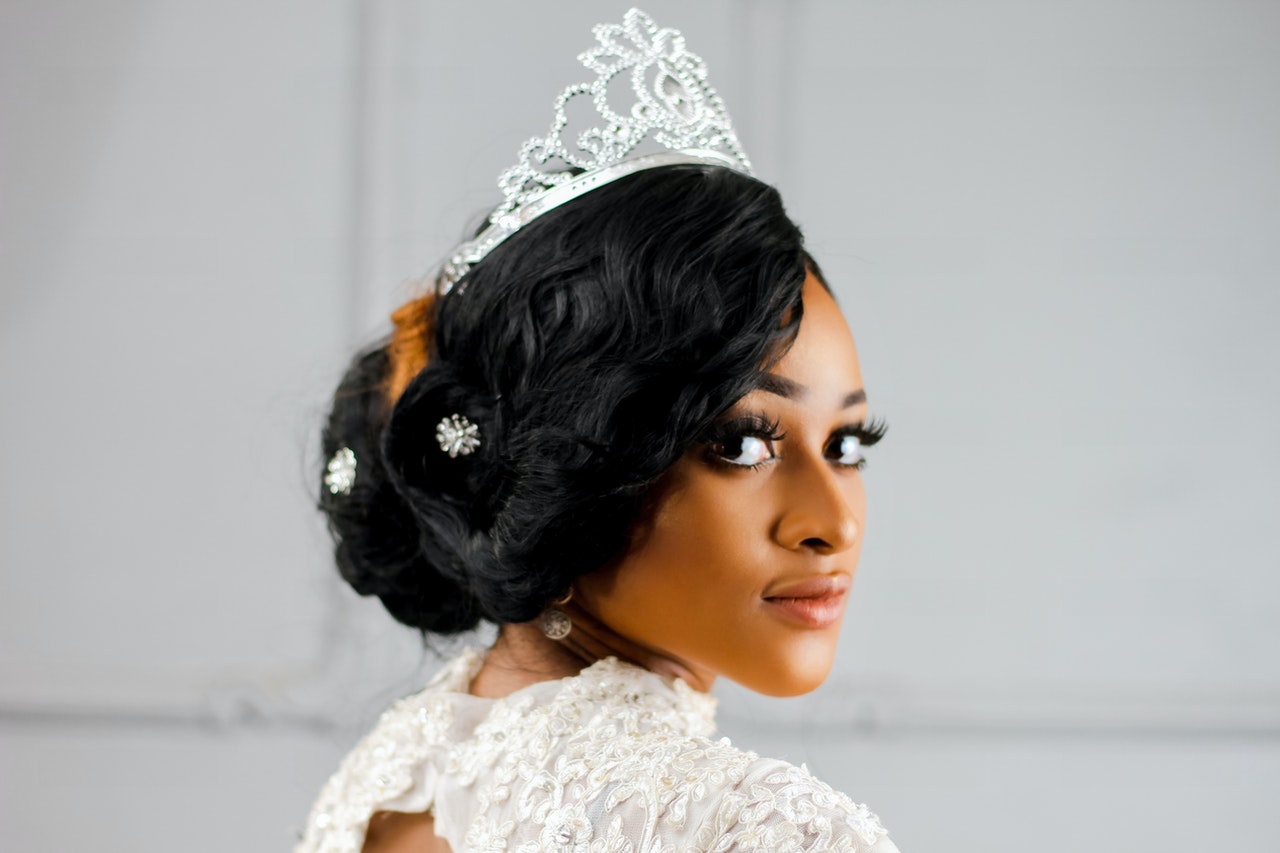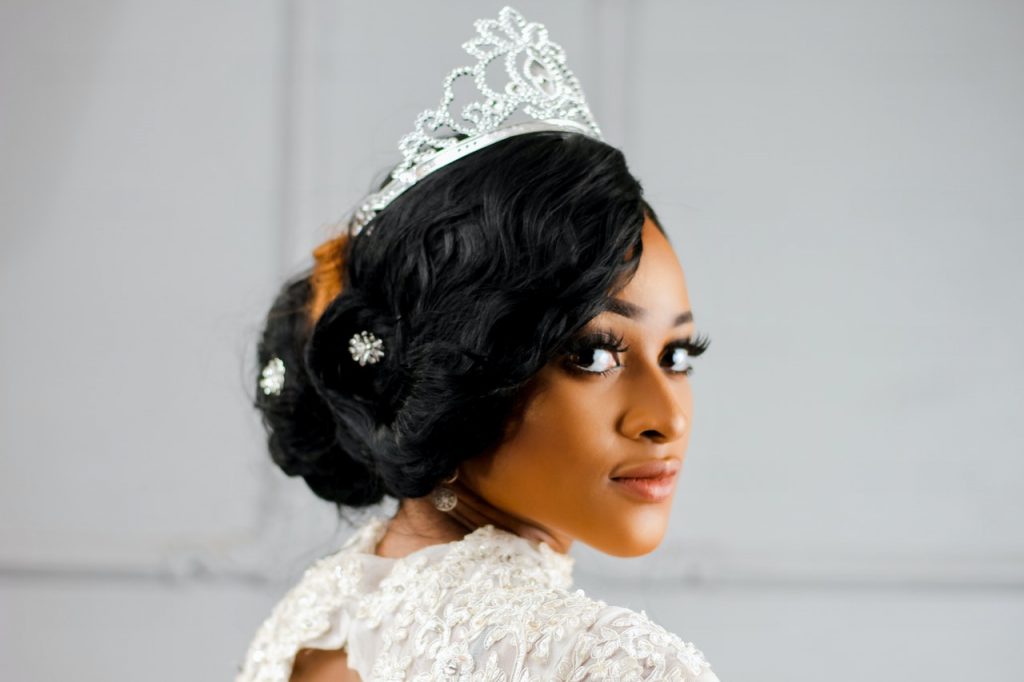 Basic Chignon
Chignon is the definitive hairstyle for brides. Basically, this can be achieved by twisting the hair and, then, tucking the ends in. Usually, chignons are located near the nape of the neck and come in many shapes and sizes.
Add volume at both the crown and the base of your chignon for a retro twist. Also, you can add some oomph to your chignon by adding a sock, hair donut, or extensions. Lastly, add some flowers! You can make your hairstyle look more stylish by pinning faux or fresh flowers to your chignon, or using fresh flowers at the base of bobby pins.
Conclusion
Remember that even though all these hairstyles look lovely, it's crucial to keep in mind that each of those suits a different wedding gown design or face shape. Keep in mind that the hairstyle you ultimately choose has to complement your face, figure, and wedding gown in the best possible way. Don't get overwhelmed by so many options for your bridal hairstyle. Getting ready for your big day can involve trying on wedding hairstyles first and observing how they look on you, so you can choose the most perfect one. Looking to up your groom's hair on his big day? Send him to Wisebarber so he can figure out the best look for his big day.