Last Updated on 29th October 2021
For those of you who WFH (work from home), maybe you are still confused about how to increase productivity while working from home? First, you should have a particular workspace called 'a home office'. Decorating a home office is also very important to support productivity.
Decorating your home office will make you feel more comfortable at work and guaranteed to be happier because you can decorate your desk as you wish to improve your working mood.
Remember, even though you work at home, it doesn't mean your desk can be messy, right? Working from a boarding house must also be innovative in managing your workplace. Even though you have a limited area, you can still turn your bedroom desk into an attractive office desk that supports your performance.
Be creative in utilizing the spaces, and care for good natural lighting. One of the best ways is by using good curtains to block excessive sunlight. Many choices available for all kinds of settings. One best example is using linen curtains. We will cover more of this topic in the article, so, keep reading!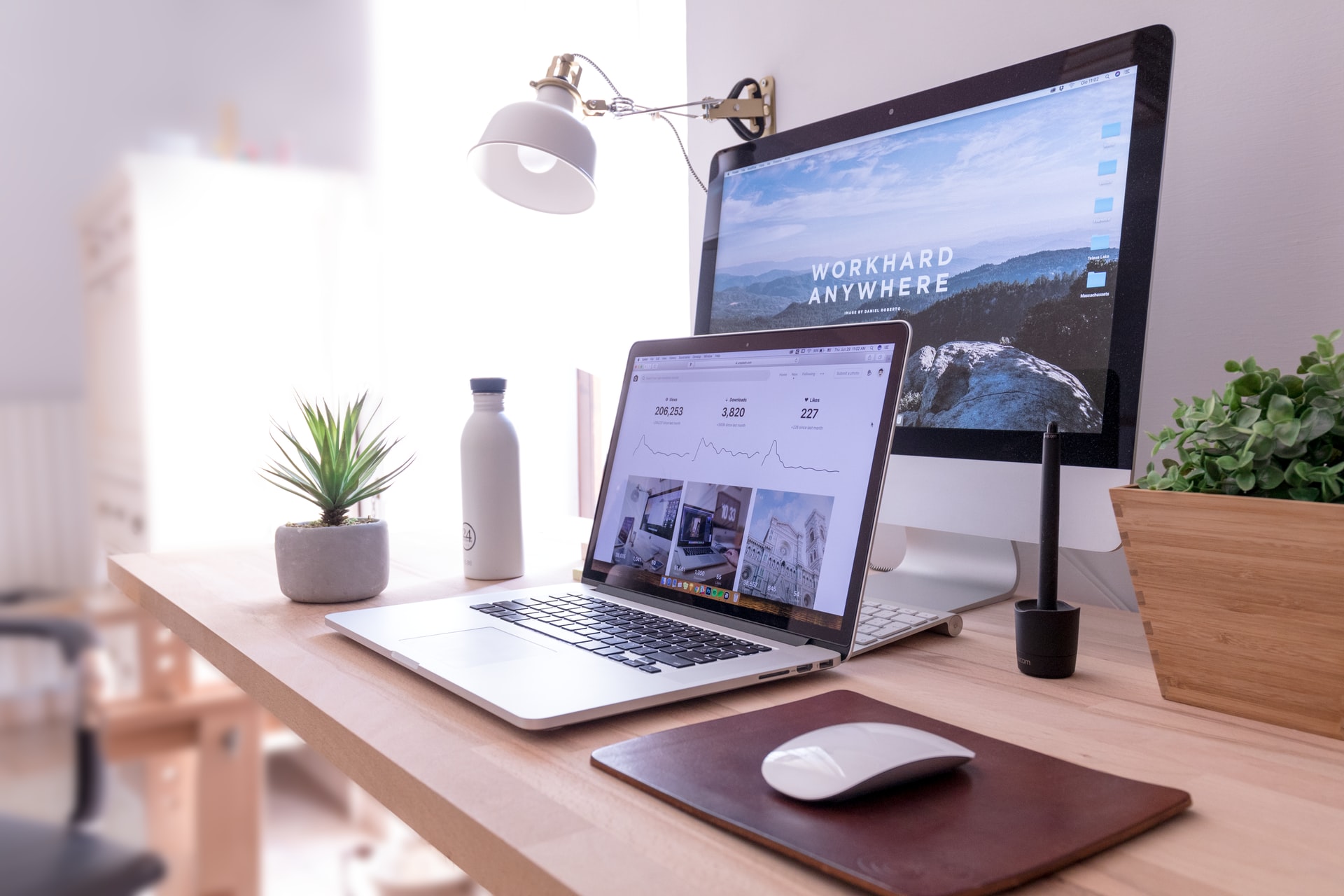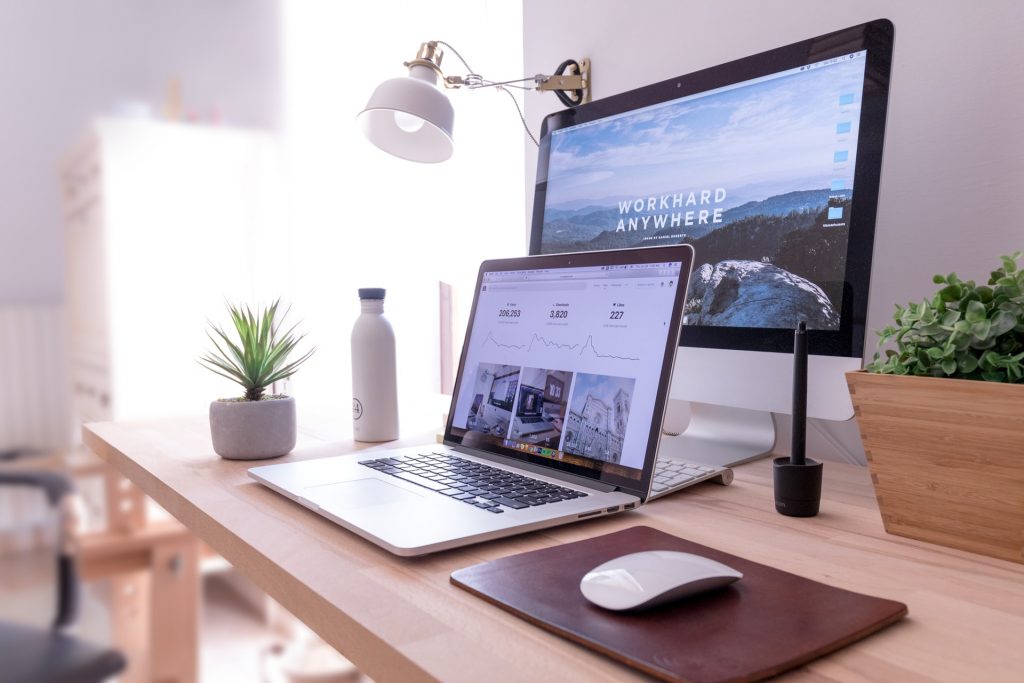 Some Tips for Turning An Ordinary Desk Into An 'Home Office' Desk That Makes You Productive
Changing a boarding stable or a multipurpose table (read: a place to stack things) at home into a desk for working at home isn't difficult. First, you need to know the tips, then decorate the 'home office' with knick-knacks that match your style.
Window And Light
If you intend to 'move' your office to your home using a family room or bedroom, you should change the location of the furniture first. For example, move the mattress to the most extended area and place your desk in front of the window. You can also apply this in boarding houses, yes, face the table in front of the window.
When working in front of the window, you won't feel like you're working in a crowded room. Because while your computer runs next to the window, the sunlight doesn't reflect on the screen.
Natural light also makes you feel like you're working in an open space, especially if you're working in a bedroom. You will also be more enthusiastic about working if you face a window with abundant sunlight and views outside.
Just add window blinds so you can close them when the sun starts to feel very hot or dazzling.
Make Your Desk Artsy
It's time to decorate your wall or desk! An artsy desk is essential if you have to sit there for a long time. You can install art decorations, art prints, photos, to various images to pump up inspiration when completing your work.
Install various interesting artworks that match your style to give positive energy while working. You can also make hanging shelves and put art decorations there, attach beautiful posters and paintings and decorate your planner or agenda with planner stickers.
Make an art gallery on the wall from your collection of art prints or personal photos. You can arrange from the bottom area first to the top, then to the right or left side so that everything looks together. Use removable tape to make it easier to rearrange the decor if needed.
Add Plants
Give a touch of life to decorate your home office. Something alive will give you more energy to make you feel at home working there.
Working from home conditions must also be practical, comfortable, and clean. Installing live plants, especially green plants, will give you a relaxed atmosphere and purify the air. Besides that, it looks prettier too!
Try installing plants that look attractive, don't take time to care for, and can purify the air. For example, mother-in-law tongue plants are great candidates for workspace plants. Give an exciting pot because it's not just a black plastic pot, yes, so that the atmosphere at the work desk is more aesthetic. Shhh, if you need inspiration for other types of indoor succulent plants, Rukita also has the article.
Give A Color Touch
Most likely, the decor of the house or boarding house uses neutral and plain color shades. However, you can add energy to your home office by adding more striking colors.
Choose a color that excites you, yes, not a trendy color or just following decorating trends. Many people like the green color for work because it looks attractive, elegant, and professional to keep them motivated.
You can also use more than one color. For example, after choosing blue, you can also add other colors that are more striking such as pink or yellow, or colors that are still suitable to be combined with the color of your first choice.
Give A Touch Of Scandinavian Hygge
With the Scandinavian trend, which is like the minimalist design but comfortable, you can also apply it when decorating your home office. For example, make the appearance of your office desk comfortable, but not so pleased that you want to sleep.
Keep the table and walls neutral, such as white and brown. Even better, here, if your table is made of wood. Don't forget to add plants and some fabric decorations like pillows or light blankets.
You can also add a minimalist rug on the floor and macrame hangers on the wall. So your workspace will feel soft, elegant, simple, and comfortable. It's more comfortable!.
Tidy The Table And Make The Best Use Of All The Space
These tips will be handy if the workspace in your house is narrow, for example, in the room. The ability to organize and organize is crucial because no one likes to work in a messy place.
Do not be busy putting printers, files, and various other items on the table surface or around the table. Instead, install the shelves on the wall, then add a file cabinet on the side of the table if needed. As much as possible, leave the table surface area empty only for laptops and some stationery or notes.
A clean office desk will make the mind feel fresher. Store various office items on wall shelves or other multifunctional storage areas.
Make It Unique According To Your Style
Who says that home office decorations have to be modest? If the room is sufficient and the budget is there, you can make it more glamorous. This work area must show your style that may have been difficult to express in the office.
Your workplace should be able to inspire and show your personality. So don't be afraid to go all out, OK!
If you want to have a fashionable and functional work desk, you can give a dramatic touch of color, both to the color of the walls, the selection of artwork, to the furniture. In addition, you can add edgy accessories such as colorful modern rugs or metallic decoration accessories.
Play with materials, textures, and colors to add something dark, unique accessories with colorful or metallic accents, and interesting textures such as fur or soft fabrics.
Use Linen Curtain
Window decoration is an essential part of every room in an apartment or private house. Matching curtains fabrics can give positive energy and a cozy atmosphere. But, at the same time, a warm and warm atmosphere depends on the right texture and color.
Many fabrics are offered in stores today, but the popular option for modern curtain design is linen fabrics. Decorators appreciate the attractiveness and environmental friendliness of materials. What are the other advantages and disadvantages of the hemp model we consider in this article?
The positive qualities of modern linen fabrics are lightness, flexibility, and softness. Therefore, the opinion that things are rough and ugly is wrong. Even in ancient times, the noble Egyptians wore linen clothes because they were comfortable and cozy.
The apparent advantage of the fabric – flax does not trap air, durable material, hypoallergenic. The service life is several years. The perfection of appearance is maintained even after a lot of washing.
Linen fabric withstands the heat of the sun in summer and provides beam heat in winter. It is believed that the amount of harmful bacteria in the air is reduced in rooms with natural curtains on the windows. This medicinal condition of flax is given to him naturally.
To correct the situation with solid curtain fabric cushions, you can, if the thing is still wet with an iron, hang it on the window. If the curtains are left folded, they again form folds.
The obvious minus of natural linen is that it is easy to wrinkle. However, if there is no synthetic additive at the base, the curtain will always be visible. Another essential drawback – after washing the natural fabric gives a significant shrinkage. Should consider the length of new unsustainable curtains with a margin.
With long-term use of linen curtains lose their original structure, the woven yarn thins. Therefore, natural curtains do not recommend washing with agents that contain chlorine. Otherwise, there will be dirt.