Last Updated on 18th August 2021

Life is starting to revert to the way it was in the United States, and with this sense of normality in the air, more Americans are planning to pop the question. According to a recent report by CNN, there has been a resurgence in engagement ring sales in the country, with a massive spike in sales in April and May 2021. Moreover, jewelers report that couples are spending more on their rings, and clients are spending the money they saved in 2020 to upgrade their current engagement ring. If you're about to pop the question, or if you're about to choose your own engagement ring, why not consider a unique piece that reflects your style and personality? Here are some unique engagement ring trends to consider if you're getting engaged this year.
Chunky and more substantial rings
Experts reveal that bigger and more substantial engagement rings will be the most popular trend for the 2021-2022 wedding season. Unique stones and ring settings will be all the rage, such as the halo setting, which is a halo of tiny diamonds surrounding a larger diamond or gemstone, which creates the illusion of an enlarged center stone. Moreover, the center ring is cut in such a way that it catches the light at all times.
Meanwhile, those who want a ring with a little more weight can go for a gypsy ring. This type of jewelry has been around since the Victorian era, but it experienced a resurgence in popularity due to the chunky ring trend. A gypsy ring features a diamond that is mounted flush with the ring, and the band, usually gold or rose gold, is at least two to three times wider than the average engagement ring. Those who want an engagement ring with an eye-catching stone may want to consider getting a halo ring, while those who want an edgier ring to go with their eclectic fashion tastes may appreciate a gypsy diamond ring.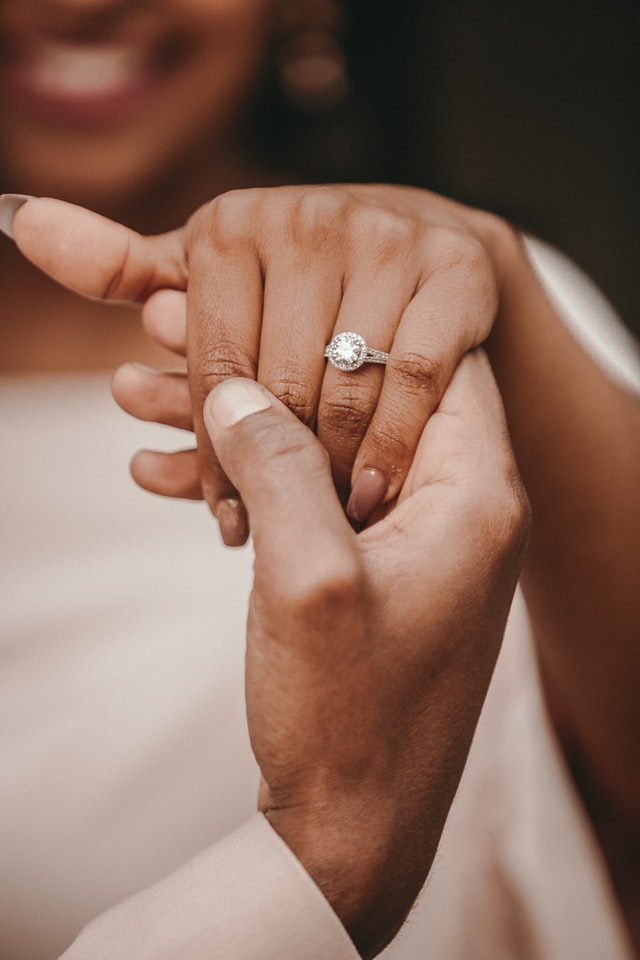 Black and grey diamond rings
For something that's truly unexpected, consider a black or grey diamond ring. Black diamonds are a celebrity favorite, and stars such as "Beverly Hills 90210" star Jennie Garth sports a black diamond engagement ring, while NSYNC member Lance Bass proposed to his fiance, Michael Turchin, with a black diamond ring set in a platinum band. Meanwhile, brides who want something a little less common than a diamond ring but don't want to wear a colorful gemstone may want to consider a grey diamond ring.
Grey diamonds range in shade from a light steel grey to a darker graphite grey, and they're mined in Brazil, India, Australia, and South Africa. These stones usually have a blue, brown, or yellow undertone, so it's important to buy them at a brick and mortar jewelry store and not an online shop, since you'll need to inspect the ring to see if it has the right color and undertone that you want. Eccentric and fashion-forward brides may like a black diamond ring, while those who want an understated yet unique piece may appreciate a grey diamond engagement ring.
Chunky, eye-catching rings and black and grey diamond engagement rings are expected to be popular choices this year and in 2022. Consider these unique engagement ring trends to suit your style, and make sure to do your research and compare ring styles so you can have the ring of your dreams.