Last Updated on 3rd November 2021
Wedding trousseau boxes are a big feature of South Asian weddings.
Read on to know more about the tradition and origin of the wedding trousseau boxes.
A wedding trousseau box is a collection of items, such as formal clothing, jewellery, linens, makeup etc., that you assemble as a bride to take with you after the wedding. A wedding trousseau box is a collection of items you intend to wear throughout your pre-reception functions and wedding reception day, along with things you plan to bring on to your new home. It might even include a few family heirlooms you may like to bring with you into married life. Preparing bridal trousseau boxes is a centuries-old tradition that many people follow to this day. Wedding trousseau boxes or chests are mostly made of wood or leather, depending on customer preference. Trousseau boxes also go by other names, like glory boxes, dowry chests and cedar chests.
Trousseau boxes can include almost anything from handicraft linen to bed-covers and blankets from bangles and jewellery to candlesticks and fancy dresses for special occasions. However, the definition of wedding trousseau boxes has changed over the past years. For starters, it has evolved from a single bag to several smaller bags or boxes of essentials a newly wedded bride takes to her home. And while it still has the essentials she needs to take, the definition of essentials has also changed. While your trousseau still includes clothes, footwear, accessories, makeup and skincare, you need to know what kind. And that depends on the requirements of every bride. While the traditional structure of the trousseau boxes is a wooden box with a hooked lid, some designs also contain drawers to maximise their storage capacity. We know that wedding trousseau boxes have a long history from different cultures. So, let us dive deeper into the glorious tradition of wedding trousseau boxes.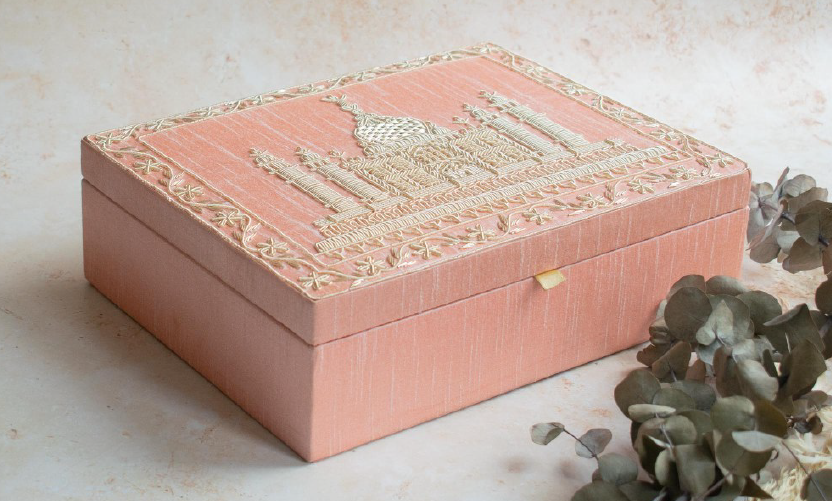 Origin and history of Wedding Trousseau Boxes
During the age of the pharaohs, the ancient Egyptians were the first to use cedar chests, now widely known as Trousseau Boxes, for storing precious jewels and even papyrus scrolls (old paper) to keep them from getting moist. These boxes were carved from a single block of wood and lasted for hundreds of years. In Medieval times, it was the responsibility of the male suitor to provide land and material comforts to his would-be wife. In return, the bride's family provided their daughter with items of daily necessity, including expensive stuff like dishes, silverware, furniture, and animals, as dowry. Less fortunate families at the time, who couldn't afford such a costly dowry, instead taught their daughters household skills like embroidery, sewing and crocheting from a young age. The father usually built their daughters a wooden chest, and the daughters then spent hours decorating it with artwork and wooden mosaics using her handcrafting skills. Girls would then stock their wooden boxes with linens, blankets, napkins, towels, and other household essentials that they either purchased or made themselves, or received as a gift from their parents, friends, or relatives. These handcrafted items were regarded as proof of a girl's skilful and dynamic nature. The idea behind these wooden storage boxes was to ensure that the newly-married couple had the basic household necessities for living a regular daily life. A talented wife in this regard was considered an asset, and this concept of making trousseau boxes helped girls pick up essential skills like sewing and embroidery at an early age, which were required later in life.
As times have passed, a lot has changed, and Trosseu boxes no longer represent what they used to in the past. Instead, they have become more of a ceremonial feature today that is solely intended to supplement the celebratory spirit of the weddings and enhance the bride's fashion amenities.
Things to Put in a Wedding Trousseau Box
You can put a multitude of things in a wedding trousseau box. Every bridal trousseau is undoubtedly different, but some similarities shine through. For example, a trousseau could include everything from pottery to jewellery, dresses, family heirlooms, quilted bedding, money, and other similar items. Let's go over some of the everyday things you will find in most bridal wedding trousseau boxes.
Bangles
Bright and colourful bangles cascading down a woman's hennaed arms are a quintessentially South-Asian wedding feature. They are not only a part of the wedding but are truly an iconic part of the South-Asian aesthetic. Trousseau Boxes make it possible to mix and match different styles and designs of bangles with your post-wedding festivity attire and look stunning.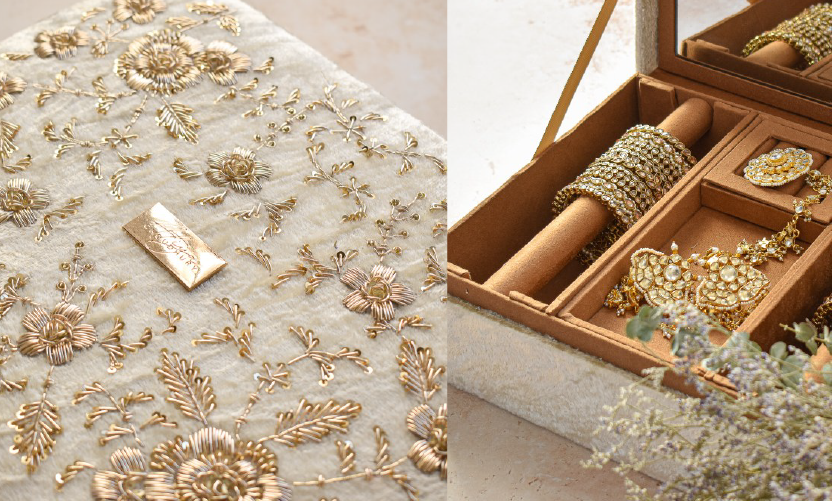 Jewellery
Jewellery is a bride's first choice when shopping after finding the perfect wedding attire. It is also something that many brides ensure to add to their top picks when making their wedding trousseau box. While honeymooning, attending post-wedding ceremonies, or using for regular purposes, you need different kinds of jewels to accentuate your beauty. Statement rings, long earrings, some bracelets and big necklaces fill up your trousseau box with exquisite jewellery pieces and make you ready for any post-wedding occasion.
Formal Indian Wedding attire
The post-wedding functions are endless, and for this, you might want to include a few formal and semi-formal South-Asian dresses in your trousseau box. Add some sarees, traditional multipurpose blouses, lehengas, etc. Be ready for all your post-wedding festivities with your up-to-date formal attire collection.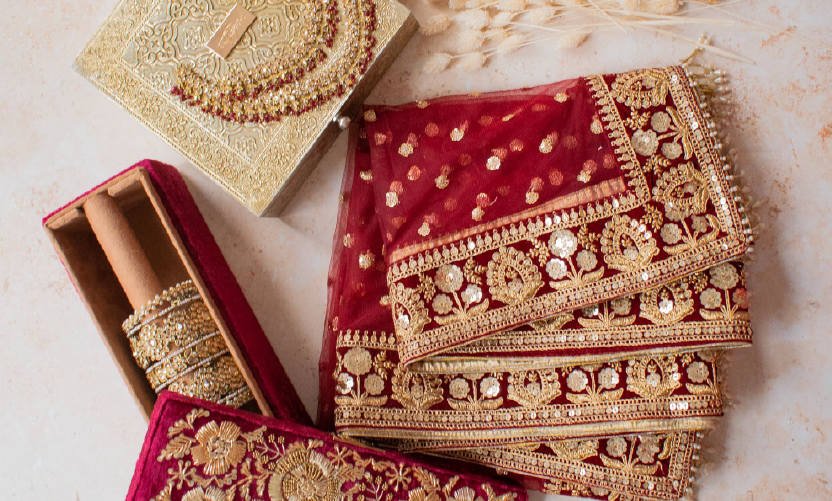 Skincare & Vanity
Make up your vanity box and include all essentials you might need at any time during or after your wedding. Attending all the wedding functions and get-togethers can get hectic, so have all your makeup and skincare essentials at one place for your pre and post-wedding events. Let the radiant skin match the sparkle in your eyes and make sure to set up a perfect all-in-one vanity from all your basics to party-ready essentials.
Get Exquisite Wedding Trousseau Boxes From Atiya Choudhury
Wedding trousseau boxes not only represent significant cultural heritage but are also perfect for gift giving. Atiya Choudhury — a famous Birmingham based brand — offers you a wide variety of designs for wedding trousseau boxes. All our wedding trousseau boxes are designed to bring out the traditional South-Asian aesthetic that is perfect for storing bangles and gift-giving and personalising it to your needs and likes. So what are you waiting for? Head on our website and get shopping!