Summer weddings are always a joyous occasion, but selecting the perfect dress for the bridesmaids can be challenging. Why not consider mint green bridesmaid dresses if they're looking for something on-trend and stylish for their big day? This pretty, refreshing color is perfect for summertime weddings, and there are plenty of lovely styles to choose from here in Cicinia.
Moreover, speaking of outfits and themes, mint green bridesmaid dresses are becoming a more popular choice for bridesmaids. Here are the top three reasons why they should consider having their bridesmaids wear mint green dresses:
Mint green is a versatile color that bridesmaids can pair with many different wedding hues.
Mint green is a fresh and modern color that will make their bridesmaids look fashionable and chic.
Mint green is a flattering color on many different skin tones.
Accordingly, mint green is one of the most popular colors for bridesmaid dresses at Cicinia. It's light and refreshing, and it goes well with various skin tones. Still, if the wedding is in the spring or summer, mint green will be a more promising great color to choose.
Finding the perfect bridesmaid dress this summer can be a daunting task, but it doesn't have to be.
Mint green bridesmaid dresses are perfect for spring and summer weddings and light hue pairs. This color provides well with a range of other colors, including white, ivory, and pale pink. Moreover, various styles are available in mint green so that bridesmaids can find the perfect look for the bridal party. Whether the bridesmaids will wear floor-length dresses or short cocktail ones, they'll look amazing if they work in harmony and coordination in mint green.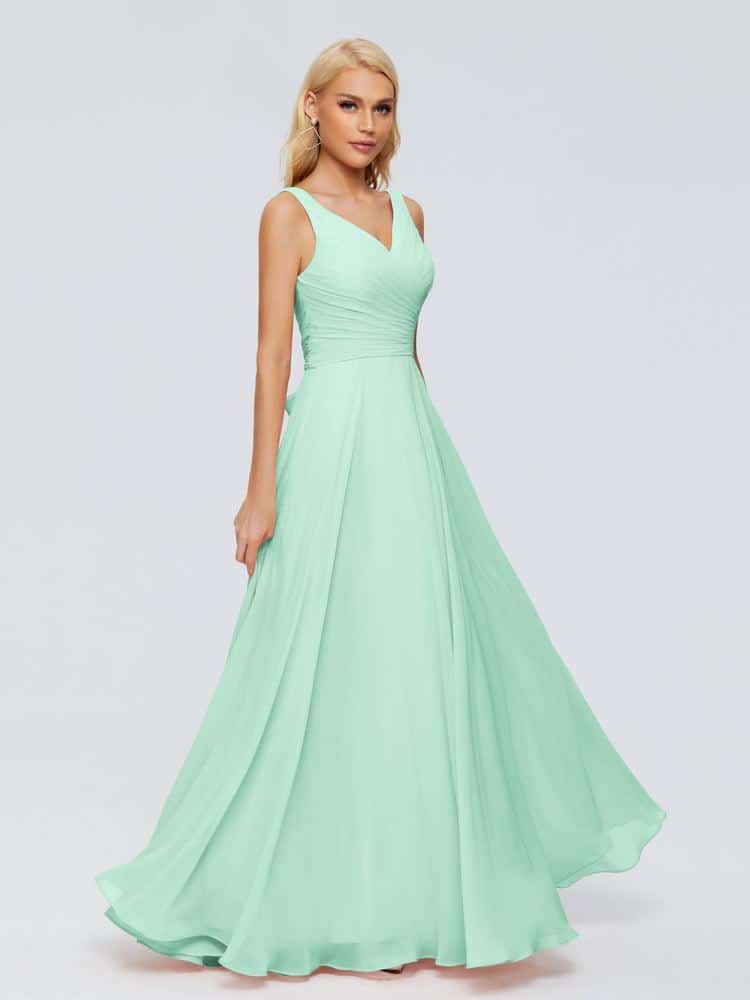 1. Mint Green Ryleigh Flowy Chiffon Bridesmaid Dresses in Bow
If they're looking for a flowy, ethereal look, consider mint-green Ryleigh bridesmaid dresses with bows. This dress' chiffon fabric will float elegantly in the breeze, and the soft color will complement any skin tone. The A-line silhouette is universally flattering, and the material is light and airy, ideal for summer weddings. The V neckline is both elegant and cozy, and the short sleeves add a touch of modesty. This dress comes with removable bows that can be worn in the front or back, giving them some flexibility in terms of styling.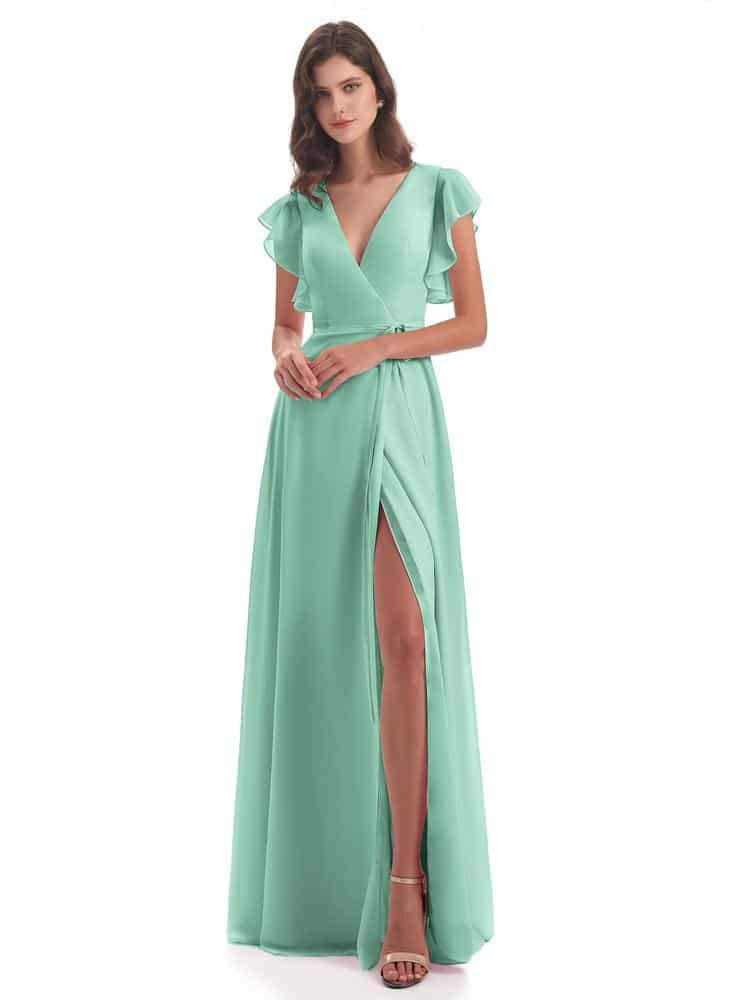 2. Mint Green Hope Charming Chiffon V Neck Long Bridesmaid Dress
Looking for a bridesmaid dress that is both charming and chic? Look no further than this mint-green chiffon sheath. The V-neck neckline is adorned with pretty embellishments, while the silhouette is figure-flattering and elegant. The soft, mint green color is perfect for spring weddings and pairs perfectly with floral arrangements in pink, peach, and ivory shades. This dreamy bridesmaid dress undoubtedly contains beautiful embellishments that are comfy and flattering for most body shapes.
3. Mint Green Rose Charming Scoop Chiffon Bridesmaid Dress
When considering choosing floor-length dresses with lace or crochet details for a more vintage-inspired style. Bridesmaids will surely pick this sweet dress that sprinkles an extra vestige of whimsy to the bridal party. For instance, the Mint Green Rose Charming Scoop Chiffon Bridesmaid Dress is perfect for a modern bride. The A-line silhouette compliments all body types, and the chiffon fabric is light and airy. The inside neckline and cap sleeves are both charming and stylish. The dress is embellished with lace, adding a touch of elegance. Making this dress is perfect for any spring or summer wedding!
Conclusion
In conclusion, there are many beautiful and stylish summer bridesmaid dresses to choose from for the coming summer season. Whether they are looking for a traditional or more contemporary look, there is a dress that will suit their needs. So don't wait any longer; browse through Cicinia's top picks and find the perfect dress for the summer wedding!