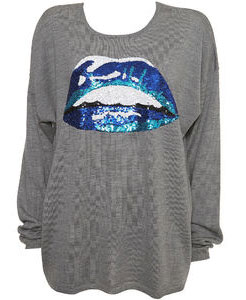 An unlikely partnership has occurred. We're used to plenty of jumpers and sequins in our winter wardrobes as we go from day to night, but not at the same time.
Yet another once forgotten trend from the 80s has crept back into our wardrobes. This time it is sequin jumpers. You would have been blind not to notice the usual suspects Fearne Cotton, Kate Moss and Alexa Chung donning theirs recently.
They're best worn either subtley, with jumpers adorned sporadically with over and undersized sequins or pearls. If you're feeling like you're pretty darn cool, go for full on kitsch with large bold designs emblazoned across the chest and sleeves like a thousand twinkling stars.
Because the designs themselves can be so fussy, black and grey jumpers seem to work best. And, what's more, now is the time to invest in this trend. With attention focused on the major high street brands such as Topshop, New Look, Urban Outfitters and Miss Selfridge, now is the time to trawl those charity shops for original and unloved gems. A friend picked up a stunning black jumper with sequined blue bow for £2.50 a few weeks ago, and I haven't stopped trying to persuade her to sell it to me since.
Any further charity shop sightings, let me know.
This post appeared first on MyFashionLife.com