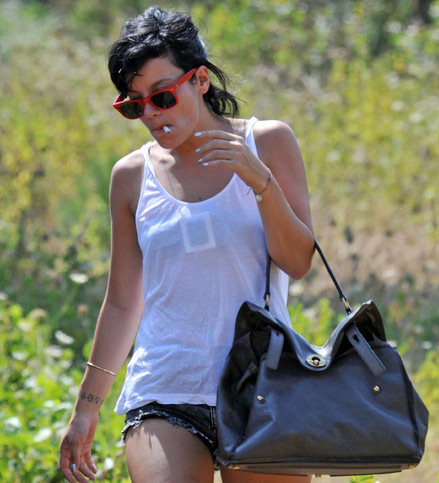 Lily Allen thinks it is "atrocious she has to pay for her own clothes.
The 'It's Not Fair' singer is disgusted she has to spend her hard-earned cash on outfits and accessories because her record company is too poor to buy her designer garments.
She told Britain's More magazine: "I spend all my money on clothes. Literally, my record company won't pay for it. That's what's so atrocious.
"My record label is totally skint. But most other record companies will spend like thousands of pounds on their artists' clothes, but I spend it all on myself. Soon, I'll probably have another house full of clothes I've bought over the past four years.
However, the 24-year-old beauty is keen to spot a bargain and regularly shops at British high street stores.
She said: "My last high street buy was probably a pair of Topshop leggings. Topshop is amazing!
Meanwhile, the style icon is preparing to launch a range of jewellery she says she is very "proud of.
She explained: "It's called Lily Allen, just Lily Allen. They tried to make me come up with a name for it but I wasn't really happy with something like 'Lily Allen Sparkles'.
"It's not really about an emotional attachment, but if you're going to have your name put on something, you have to make sure you're proud of it and like it.
This post appeared first on MyFashionLife.com