[noskim]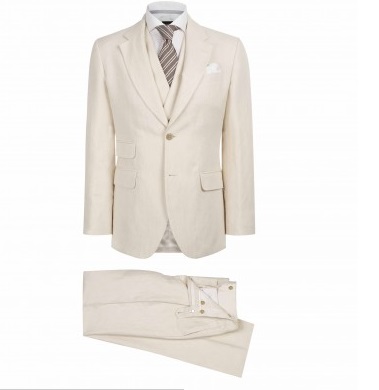 Summer's coming but men shouldn't see that as a free pass to let go of their fashion sense and descend into the realm of tracksuit bottoms and baggy T-shirts! Ladies who fancy giving their men a helping hand to stay on track (or a total style overhaul!) may find this guide helpful when it comes to pointing him in the right direction.
1. Show him a suit will suit
Some men just aren't the type to let a suit anywhere near them unless a wedding or other strictly formal event demands it. However – it could be time for this view to be challenged! Louis Vuitton's spring/summer 2013 collection perfectly demonstrated how the right suit can take on an ultra-cool, wearable and even laid-back air when worn on balmy summer – and with the right attitude.
First, men will need to be steered in the direction of a good suit. Well-known brands like Hackett have some light-coloured offerings that would do perfectly, especially styled-up Vuitton-style with a knotted neck tie and open shirt.
2. Introduce him to summer's smart/casual
When a suit's a bit too much to ask for, ladies could instead suggest a collection of polo shirts to be teamed with chinos. They're stylish in any shade – from pastels to bold stripes – and the button and collar combine to create a smart air while the shirt sleeves and cool fabric will keep him comfortable.
3. Vet the trends
Not all men's fashion trends are wearable for the everyday man. For example, orange is big news this SS13, but it won't bring out the best in every skintone: if a man has a hint of redness in his skin, this colour will exaggerate it. Men can quickly see which colours to avoid by holding an item in the shade up to their face. A quick tip: If he's buying online, hitting the highstreet to find any old garment in that colour would be a great way to get an idea of the effect before parting with cash for the item he actually wants.
[/noskim]
This post appeared first on MyFashionLife.com