Last Updated on 1st October 2008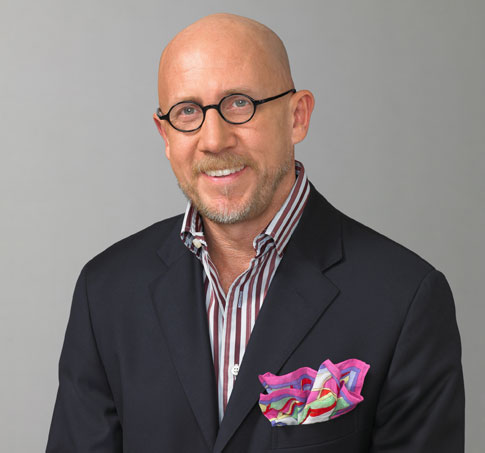 Alright, I must confess this is one interview I was extremely excited about. Michael Fink, VP and Women's Fashion Director for Saks Fifth Avenue, is someone in the fashion business that I really admire. With over 20 years in the industry he's a true veteran. We managed to get Michael to take time out of his hectic schedule to answer some of our many questions. Enjoy!
With a new season comes a great excuse to update our wardrobe. What key pieces would you recommend for us working ladies who wish to stay on trend with our workwear?
The Saks Fall Want It! List, sponsored by MasterCard has some great pieces for the fall. One trend I love is a romantic blouse with ruffles, bows or lace worn under a slightly revealing suit jacket. Then you can easily ditch the jacket for a fun, flirty night on the town.
Dresses are sticking around this season and the tailored dress is a classic look that works for everyone. With slim lines and exquisite tailoring, it flatters every body type, and reminds you of an era when people really took the time to dress and look their best.
As for accessories, all women must have a big, bold necklace with lots of color and shine. Crystals, beads, diamonds…anything goes this season, so don't be afraid to accessorize the neckline. This season's shoes are boots, boots, boots. Choose from a variety of styles and heels; from shoe booties, mid-calf, slouchy to over the knee, flat or stiletto, you can pair a boot with almost any outfit.
Global warming is making it pretty tricky to purchase a coat that will sustain us through winter. What's your top tip when hunting for a winter coat?
The sweater coat is a great choice for all seasons. Choose one with novelty stitches like cables and ribs and a belt to emphasize the waist and you will be set.
You're renowned for spotting new talent. Any are there any designers that we should keep an eye on this fashion week?
There are so many emerging designers that I am keeping my eye on. Thakoon, Richard Chai, Brian Reyes, and Chris Benz. Christian Siriano, last season's Project Runway winner, is presenting his first collection this week , I had a sneak peek and, to quote Christian, 'it's fierce!
Which major trends do you predict will emerge from the Spring/Summer 09 collections?
Variations of the tailored dress will be around for Spring/Summer '09. Also keep an eye out for pleated pants and Bohemian inspired pieces in upcoming collections.
What does a normal working day for you consist of?
I run around all day. Seeing new designers, meeting with designers to discuss upcoming trends, deciding advertising looks for all of our catalogues, developing ideas for our New York store windows, working with students in the local design schools. There is NEVER a dull moment. I love it!
What's the biggest change (both good and bad) that you've witnessed in the fashion industry?
Bad: The ever-increasing expectation for designer's to create fashion faster and faster. There's so little time for them to develop and experiment with an idea for several seasons. But that's modern culture. GOOD: I am daily amazed that there are so many talented people who want to be designers. This is a tough business and I applaud anyone who has the moxie to try and make a mark.
What are you currently listening to on your iPod?
Oh dear, I listen to everything. I just downloaded some Curtis Mayfield classics and a Beethoven piano concerto.
How would you describe your style?
Sartorial bohemian. I prefer clothes that are timeless and classic, including great tailored suits, printed ties and wing tip shoes. But I mix it all up with color and pattern. And I'm NEVER without a pocket square!
Finally…what's the best piece of advice you've been given?
Give back to the world generously.