Last Updated on 19th October 2013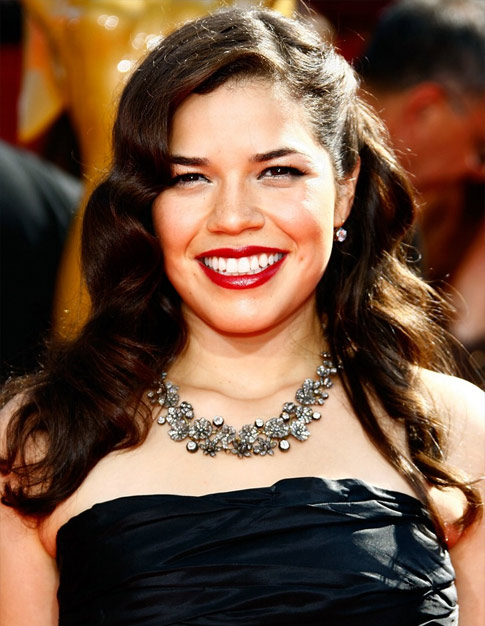 One starlet that stood out for us at this year's Emmy's was America Ferrera. Her make-up was flawless, her lipstick gorgeous, and she looked radiant to say the least. Now if you loved her look just as much as we did then we have a treat for you! Read on for our exclusive interview with NARS makeup artist Vanessa Scali. Vanessa is the lady responsible for turning America into a sexy vamp for the night!
What was the inspiration behind America's look?
The look was inspired by the 50's: an Audrey Hepburn eye, a Vargas mouth and a sheer, radiant face made it modern and timeless.
Can you walk us through step-by-step how you created her look?
Foundation/Concealer: I like the skin to look flawless but real so I always use foundations and concealers sparingly. That said, I prefer spot coverage for foundation. On America, I used NARS Balanced Foundation in Fiji and Barcelona (I mixed two colors for the prefect match). I use a brush to apply it to the areas that need it and then I blend it in with my fingers. Using your fingers heats the product just a bit and leaves a seamless finish. Then I applied NARS concealer under the eyes where necessary.
Contouring: I used NARS Bronzing Powder in Casino to contour her cheekbones and accentuate her bone structure.
Cheeks: For extra staying power I used a combination of NARS cream and powder blush. This will make your blush last longer and require fewer touchups. First, I applied NARS Multiple Stick in Portofino to the apples of the cheeks. Cream formulas are my favorite. They are the easiest o blend and leave the most natural finish. Then after I used a touch of NARS translucent powder and then I applied NARS Blush Orgasm. The combination gave her face a touch of color and a subtle shimmer that left her looking radiant , not made up.
Eyes: The eye is sophisticated yet innocent. First I used the NARS Multiple Stick Copacabana all over the eye lid. Followed by the right hand color in the All About Eve duo palette. All over the eye and under the bottom lashes. This layering help gives staying power. Next, I lined inside the NARS Eyeliner Pencil in Iceberg (white) to make them look bigger and I lined her eyes (upper lid only) with the NARS Eyeliner Pencil in Moon Black. Because mascara and lashes were very important to define the eye, I curled them and gave them several coats of NARS mascara in Black Orchid.
Eyebrows: I used Nars Ipanema brow pencil to fill in as needed.
Lips: Lips are bold and semi-matte. I used NARS Semi-Matte Lipstick in Scarlet Empress.
How would you describe America's look and how did it compliment her natural beauty??
Simple, sophisticated and timeless! I kept the skin sheer to show off her flawless skin, her eyes simple but well defined and gave her a bold color on her lips to give her a simple and youthful sophistication.