Last Updated on 19th October 2013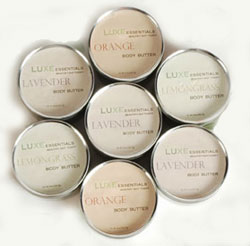 There is nothing more satisfying in the brisk autumn months than a quality body butter. Skin tends to get dry and cracked and it's important to keep your skin hydrated without feeling greasy and gross. Not only is the texture important, but the scent is crucial to any body butter's success.
It's hard to break through all of the products out there – so here is a helpful hint, Luxe Essentials organic body butter. Featured in lemongrass, lavender and orange, the body butter is comprised of organic shea butter, dead sea salt, himalayan sea salt and organic essential oils. The organic shea butter heals sun damage skin, prevents premature wrinkles and soothes rough dry skin. The dead sea and himalayan sea salts promotes healing and are known to relieve aches and pains.
Organic based beauty products are becoming increasingly popular due to the benefits of their natural ingredients for your body. Luxe Essentials' products stay to true to their, "beautify not toxify," motto and only include natural ingredients.
Try organic body butter this autumn to see how great your skin feels!