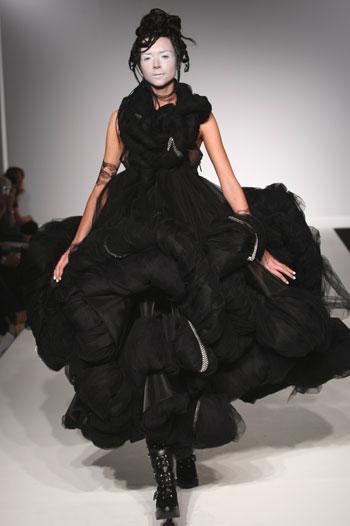 After a gloriously gothic, entirely theatrical show I crept backstage to meet the brains behind the self-named label. There I found a sprightly gothic pixie, Inbar Spector a tiny beautiful, almost doll like woman. Dressed in a black tulle skirt and top with floral stilettos, you knew straight away that she was the designer of those whimsical creations, yet at the same time I couldn't quite believe she was able to make such huge knotted gowns.
You instantly warm to Inbar, she has such an air of enthusiasm and joy about her work that you are instantly pulled in. She is in every word a philosopher and clearly puts thought into every piece of her work. In fact, her words made me warm to the collection even more. I could power phrase, I could work her answers into a long article, but I think I best let Inbar speak for herself.
On the inspiration behind the collection:
There is something romantic, the romanticism is very different in this collection. It's a little bit twisted; it's about the pursuit of beauty. Where you pursue after it but you can't reach it, so there is a romantic idea behind it, but the nature of it is bigger than you. But it's all really philosophical, because as soon as you get to the studio, the idea becomes a mish mash and you begin to create something, the material is there and you fly to somewhere else, you do whatever you feel right. I felt for this collection, I wanted to play with volume and the twist, the twist can reflect the extravagance, the craziness, the obsession with the pursuit after beauty.
On those giant knots:
I think that the knot twist, is about something that went wrong, you get old, you get white hair, you get creases, you can' t be beautiful all the time. This reflects the beauty that went wrong, but I think there is beauty in that as well.
On Couture and her designs:
I love couture, but I have a love and hate relationship with couture, this is like my own interpretation, it's not proper couture, it's a mixture between couture and avant-garde. I love going to the extreme and mixing stuff and going mental with the fabric. Honestly, I have a love and hate relationship with it, if you push it too much it can be disgusting, but if you do it the right way its amazing… it's a dream.
On other designers:
I look up to loads of designers, I think there are so many good designers out there, I love Rei Kawakubo and John Galliano, essentially they are brilliant, you have to go all the way. This is what I want to do, they inspire me, they are courageous. They stick to their guns and that's what I'm trying to do, to do what I believe in, what I want to wear. You should go for whatever you want, you shouldn't be afraid.
On the collection:
In every piece there is something for me, this is what I want in my closet, this is the perfect closet for me, so I love them all. I'm pleased with everything, I wont show anything I'm not pleased with, in every garment there is something interesting and sexy and cool and me in it. It really depends on the occasion and on the mood, I love them all.
On creating a menswear line:
I think it will have a couture feel, this is my style, something that is cool, something that you want to wear. The outfits for women can go on men, like the trousers, they are unisex really, if you're a guy with skinny legs… perfect!
On Inbar Spector's one love and her one hate:
Fashion, I think there is a love and a hate relationship between me and fashion, you love it, you hate it, similar with couture, I'm touching couture, but I'm not really there, so I think it's love and hate.
If her clothes are a piece of her and that piece is her enthusiasm and lust for life then put me down for the entire collection!