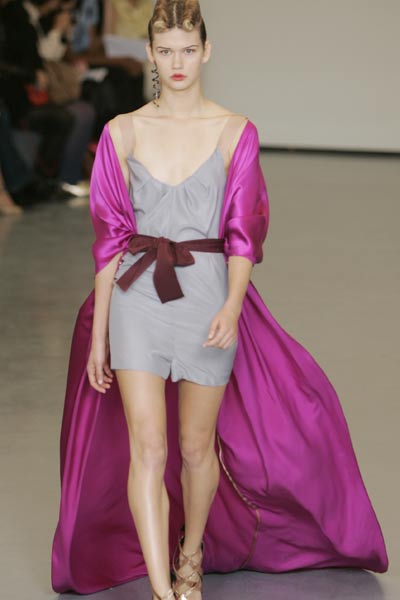 Wind back the clock precisely one year and Roksanda Ilincic was showing off her sassy spring summer 08 collection. It was savvy, it was feminine and it had guts. A year on, and the Central St Martins graduate has done the unthinkable, something I didn't think her capable of. Put bluntly, her new collection is, well, rather butch.
Gone are the art deco pleats and hyper large shoulder pads. Gone also are the clashing acid yellows, cobalt blues, golds and blacks. Instead she has produced something more vulnerable.
Silhouettes are whimsical and un-stuctured, in tones of purple, maroon, peach and muted blues. In fact almost every dress in the collection is formed from loose swathes of billowing fabric reigned in only by a high waisted sash, and punctuated by rosettes. Sounds ultra feminine right? But no.
For a start only those of us without curves would look anywhere approaching acceptable in them. For me, the strength of Ilincic's previous work was that it was fiercely sexy. Us mere mortals with our muffin tops and bingo wings would have had a fighting chance of looking good in them. And to be honest, the previous collections were also good fun. That wonderful mix of eighties slut, seventies society girl and fifties debutante just did it for me, I guess.
That said, there are still a few great pieces. Her black silk hareem pants teamed with a simple feather encrusted cream vest stands out from all the unexciting explosions of tulle.
So, ironically then, for a collection that seems very masculine, the new pieces have no spunk. Bring back those clumpy zips, bizarre fabrics and clashing colours Roksanda. Pretty please.
[Images]