Last Updated on 19th October 2013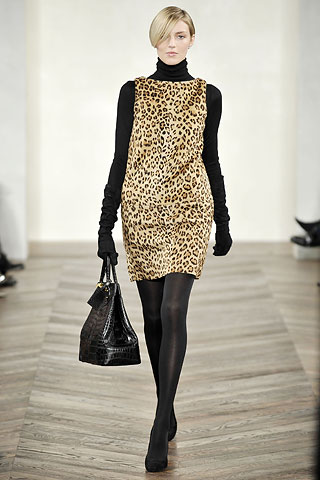 When the weather gets slightly warm and the sun begins to poke its head beyond those cumulus clouds, certain trends begin to shuttle in and out of your wardrobe, with the luckier garments finding their coveted spot in the dominion of the prior season. The tribal/safari look is one that definitely has top billing every spring.
Just Cavalli's SS08 collection was an ode to the vibrant spectacle of African fashion while batik style prints garnished the wares of Givenchy's SS07 line to inject the necessary pangs of tribalism for yet another spring season. However, normalcy so has it that once the weather takes a turn for a chillier fall encounter, the tide changes and safari inspired trends are on their last legs. Dashing ever so swiftly from the preying eye of public scrutiny, leopard print dresses greet the fall with an exit.
Well not this fall season. Fashion decree is not the be all and end all so, yes, you will be sighting the odd animal dotted trench prowling about this fall. Blumarine's AW08 collection set the tone with a grandeur leopard print serving as cover for trenches, frocks and blouses. Even down to their accessories and chaussures, the markings of predatory creatures were no longer in penumbra for the fall. Truth be told, we found Ralph Lauren's momentary sojourn into animal print in his SS09 line was a bit antiquated and stuffy—not our cup of tea. However, their berets strewn with ornamental feathers and their nimbly looking halfcalf sandal stilettos ($725 at Ralph Lauren) made for a pleasing assortment of accessories in the iconic pattern. And coincidence would so have it that InStyle acknowledged animal−print bags as a "sure bet for [this] fall, permitting you to flood the visual senses in entirety by accessorizing your extremities with a wilderness−like ambiance.
Now we're not cajoling you to mimic the aesthetic of Blumarine's head−to−toe embellishment of animal−print—that could potentially be disastrous and you'd have our heads for that. But as contemptuous as it may seem when overdone, animal−prints are fantabulous come winter, spring or fall. Yet the pattern's overt loudness is partly the reason why the trend hasn't ventured beyond the joie de vivre that cloaks summer fashions too often. When fall fashion hibernates from color, the mere sight of carroty hues topped with speckles of white, grey, and black can send a passerby into a sensory overload!
The roar of say leopard−print winter boots in the board room or a fashionably tame environ can be pretty imposing so do tailor your daring excursion into animal−prints with a personality check. What suits me? Unless your persona is chuck−full of panache and bravado, avoid entering a plateau of forced frivolity by outfitting yourself in animal−prints that are a far cry from your fashionable leanings. Coyly start out with a diminutive animal−printed clutch paired with a svelte black evening number and tribal−inspired jewelry to match. As confidence builds, then toy with some racy shoes (think the Ralph Lauren's mentioned above), pants, or blouson tops and before you know it, you'll be boldly gallivanting about town animal−prints in tow, impervious to and miles ahead of delayed critics.