Last Updated on 19th October 2013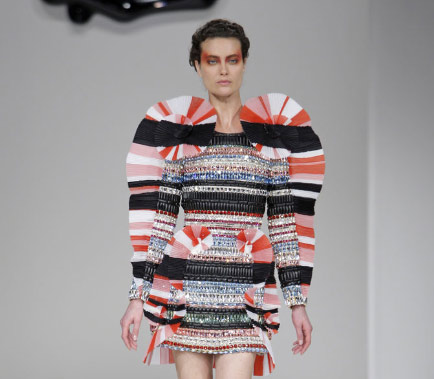 There is the possibility that fashion week may cease to exist. Instead show season could be nothing more than a series of catwalk presentations streamed via the internet and the fashion pack may find themselves swapping a week of parties, shows and dressing up for their sofa, pyjamas, a laptop and (coffee) champagne.
For SS09 Viktor and Rolf offered us a taste of what fashion week could possibly become by presenting their collection for Spring/Summer 09 via their website featuring just one model , Shalom Harlow.
Filmed last week, it took 50 technicians to film the runway show which used multiple footage of Shalom Harlow donning various outfits from the collection including three dresses embellished with Swarovski crystals.
The benefits of switching to an online show were clear; low costs and no issues with invitations and seating. The benefits for us? We have to admit it was great to have the cameras zooming in and out allowing us to view the clothing in all its glory. It really was just about the clothes, there were no front row celebs stealing the limelight.
The downside? It was all a bit impersonal, there's no backstage action and no impromptu one on one interviews with the designers.
The only way to really know if it'll catch on is if Viktor and Rolf themselves opt to go online next season. Time will tell….