Last Updated on 19th October 2013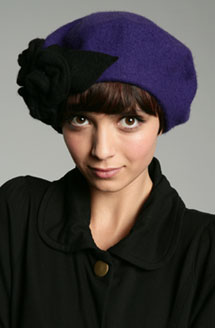 As winter steadily approaches a good hat can easily become ones best friend;  great for keeping you cosy on those bleak wintry days as well as providing a convenient disguise for bad hair days and late-night eyes.
Practicalities aside, and more importantly however a cute beret or bowler can add real fashion flare to your winter wardrobe and no one understands this better than veteran designer Helene Berman who recently turned her creative attention to the world of hats.
Best known as the founder of quintessentially English label 'Charles Gray' Berman's transition from fashion design to milliner last year was a great success and her debut collection a big hit. Bows and corsages on adorable berets as well as trilbies in bold colours were snapped up by stockists and seen adorning the perfectly coiffured heads of fashionistas across the country.
Her autumn/winter collection this year shows similar fashion flare and promise. Ever more ornate applique florals, diamantes and girlie bows update monochrome and shocking fuchsia berets. The grey tweed trilby and bowlers are bang on trend, and for the really fashion forward some designs even come in patent leather.
All in all the collection is wearable yet distinctive. Assorted designs are available at asos.com and Urban Outfitters.