Last Updated on 10th October 2008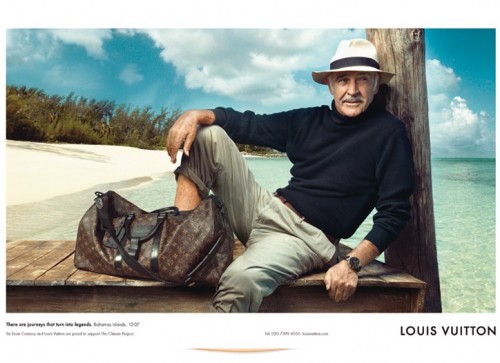 Can you believe Sean Connery is 78? He looks damn good for his age and Louis Vuitton must think so too. The luxury brand have enlisted the help of our favourite 007 to be the new face of its, "Core Values Campaign".
Shot by Annie Leibovitz, Connery is pictured looking oh so cool and relaxed by the dock near his home in the Bahamas with his Louis Vuitton travel bag and wearing a panama hat, a polo neck and rolled-up chinos.
The ad reads, "There are journeys that turn into legends. Of Connery as the face of the campaign, Vuitton's director of communications Antoine Arnault said,
"We are extremely proud that an actor of such immense stature should have agreed to participate in Louis Vuitton's Core Values campaign. This wonderful portrait, which captures all Sir Sean Connery's legendary allure, is bound to have a tremendous impact."
Past promoters of the core values campaign include Keith Richards, Francis Ford Coppola, Catherine Deneuve and Mikhail Gorbachev.