Last Updated on 19th October 2013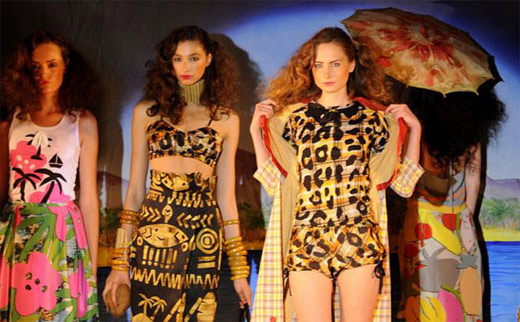 Every year the Antoni & Alison slot is always filled with something that little bit different. Last year, lucky show-goers were invited to watch Nicole Kidman present the new collection on screen. This season, the show was once again a form of light relief.
The invitations informed us that this year the playful designers were going to present us with something exotic.We were welcomed to the venue by sweeping palm trees and a brightly coloured stage, and the attention to detail was topped off as each member of the audience found a gift in the form of a coconut on their seat.
The show began with a 1950s style solo performance, where a well groomed, traditionally Italian man in a crisp white tuxedo sang a quirky introduction to the collection. For the first minute of his performance, the excitement of the audience visibly grew, but after three minutes of the "Antoni & Alison song I think the majority of the onlookers were ready for what they had come for – the fashion!
The curtain rose to reveal, as promised, an exotic collection – bright colours, hawaiin print and an overall luoa theme wowed the audience. The first model to step forward was dressed head to toe in what looked like a sailor fancy-dress costume.
Catastrophically kitsch is something that has been associated with Antoni and Alison for some time now, and the sailor get-up was a classic example of the kitsch fashion that fashionistas have been divided by.
For me however, the collection seemed to get better as we went from one outifit to the next. By the end of the presentation I was a true Antoni & Alison fan, craving next summer to wear the utterly resort fashion to its full potential.