Last Updated on 19th October 2013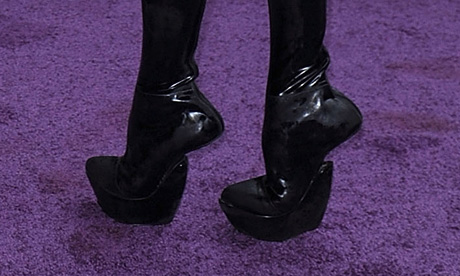 That is the question. Well, maybe only for those of us that get the option of receiving a special order package from Antoni Berardi.Enter: the Beckhams. As long time fashion friend to the immaculate couple, Berardi stole the show when the two launched their latest fragrance at Macy's New York, with Victoria tottering around in her Antoni Berardi, platform non-heels.
The thigh-high, latex boots made headlines due to the radical concept of height-without-the-heel, but Victoria pulled the 'boot turned shiny trouser' look off with effortless elegance in a minimal-fuss ensemble.
Perhaps this is a look we should be growing used to. This is not to say that one should expect the high-street to employ the technical design work involved in creating such a shoe (though wouldn't that be novel?), however, Berardi has afterall, produced heel-less shoes for two years running. Remember the heel-less spring/summer o8 sandal?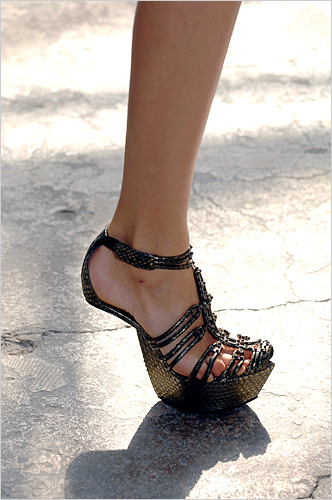 Furthermore, as designers rcontinue to delive unimaginable innovations across the catwalk, we are becoming more and more exposed to the architecture of footwear: however impractical.
Marc Jacobs' reverse-heel shoes caused a stir (and possibly even a few broken ankles) when he launched the spring/summer 08 Surreal collection, and this year saw London-based duo Aminaka Wilmont send their models down the runway without shoes. Heels and ribbon straps – yes; soles – not so much.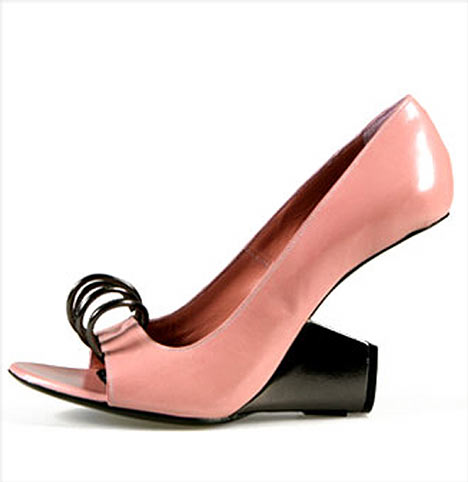 Despite despising the surreal heel and the messiness of the Aminaka Wilmont non-shoes (what could you be stepping in…), Berardi has helped a little in altering my perception of what the fashion shoe is, and what it can be. Yes, for now I'd like my standard upright heel/sole combination, but who's to say that won't change in the future?
What's more, having seen two models trip up down the Prada catwalk at Milan fashion week, perhaps it's best to avoid heels altogether.