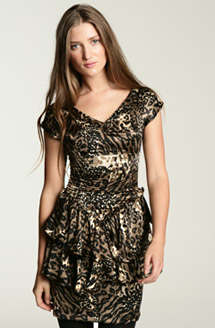 I have a confession, it may shock you, it may even disgust you, but I am afraid it is true. I love animal prints. Yes, I know, but it's true, leopard prints, snakeskin, crocodile, even butterfly wings. I really do love a print.
They can look awful, tacky, cheap. But there is a certain charm, almost a kitsch quality to the tackiness of animal prints. And it would seem I'm not the only one who thinks so. The designers have gone print crazy for this season, check out Luella, Alexander McQueen and of course the king of print; Roberto Cavalli. Not forgetting the high street, which is currently inundated with all sorts of skin creations, many of them taking on a vintage feel.
Peep toes, structured handbags and cropped gloves, manage to transport the tacky to the tasteful. There's a 1940s feel to this season's animal print trend. This continues the kitsch look but makes it a little more wearable. The most important rule with animal print is less is more and keep the rest of your outfit understated.
If you want a demure approach go for a crocodile skin, the more daring will opt for leopard or snakeskin. If you're feeling extrovert why not try a skin print dress like the one pictured. This Bolongaro Trevor, £135 from Urban Outfitters, will look great with opaque tights, ankle boots and the obligatory rouged pout. Check out Topshop, Oasis, and Miss Selfridge for great accessories. If you want to get more mileage out of your skins then head to Jaeger for some gorgeous bold snakeskin chiffons. Reiss also have some very sexy snakeskin shoes in an array of colours.
Print is all about sassy seduction. Animal prints = animal instincts, purrrfect!