Last Updated on 19th October 2013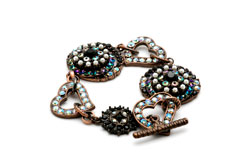 This seasons gothic trend is one of the more difficult to pull off successfully; the noir over-kill must be carefully balanced with the right amount of skin-on-show in order to keep it playful and on trend rather than simply scary and sombre. One easy way to bring a bit of sought after gothic glamour to an outfit is through accessorising. The right jewellery can make or break an outfit and no one understands this better than designer Adele Marie.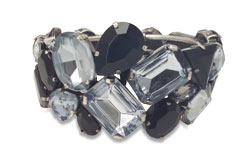 Stocked worldwide Adele Marie boasts a massive range of necklaces, brooches and bracelets with literally hundreds of diverse styles on offer. Amongst this treasure trove of spangly delights however, it is the bejewelled gothic inspired pieces that really stand out.
Antique-look necklaces and bracelets with enamel detailing as well as bangles with whopping great sparklers would add an oh-so-easy gothic touch to any black ensemble. Less is most definitely not more in this case, it is all about making a statement and Adele Marie certainly achieves this with her generous smattering of gems and pearls, heart detailing injects some much-welcomed romance too.
So if you're a little nervous about pulling off the gothic look without looking positively Halloween, accessories might be a good way to beak you in gently and Adele Marie is an ideal place to start.