Last Updated on 23rd October 2008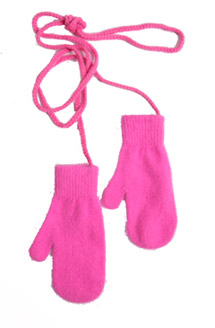 Depressed by the thought of grey skies, rainy days and slushy streets? Help is at hand with these cute and cosy angora mittens. Reminiscent of the home-spun mittens your granny made you at school, the string that holds them together is not only sweet but very practical too!
The bubble gum pink looks delightful contrasted with a winter wool coat in grey or black and Urban Outfitters offers plenty of options that will work wonderfully with them, whatever your style.
Sure to put a smile on your wind-beaten face this winter, the mittens are also available in pale grey for the less adventurous and retail at the reasonable sum of £16.00.  Get them before I do!