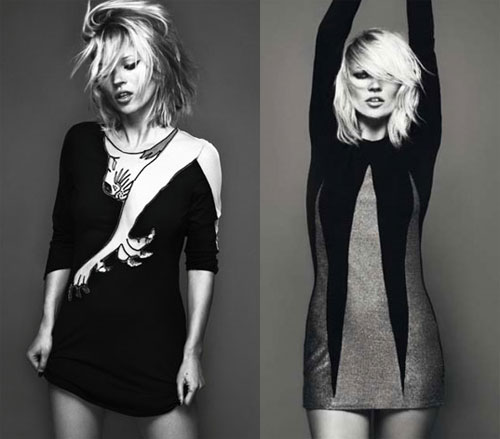 It may be doom and gloom all round for many a high street retailer, but not for Topshop and their golden goose Kate Moss. Kate's eighth collection for Topshop launched yesterday and it's proved to be the most successful to date.
Remember the Tiger dress she wore to the Vivienne Westwood Spring/Summer 09 show during London Fashion Week? (If not see the the left dress pictured above). Well it sold out within 15min instore. All together now…what credit crunch?
The triangle print mini dress (pictured above on the right) was also extremely popular. If you clicked on to Topshop.com after an hour of the launch then chances are you missed out on snapping up both pieces.
Either fans really can't get enough of Kate and her replica collections or Topshop intentionally stocked less of the line this time round.
There are still pieces to be had including our top picks: the crochet tee, a cute prom dress and this fringed jacket.