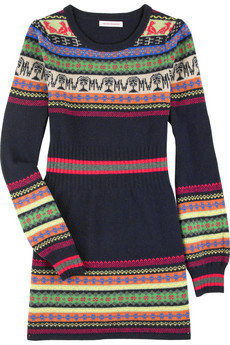 It's getting to that time of year when I've started to pull out my jumpers and sheepskin boots. I stare longingly at my duvet and wish to walk out the house wearing it.
Thankfully, knitwear this season looks super stylish and fabulously comfy. I am having a bit of a retro moment and have fallen head over heels for all the patterned folk style knitwear, which has flooded the catwalks and high street. There is something wonderfully kitsch and whether dressed up or down are sure to make those cold wintery days feel a little brighter.
Now I am talking kitsch, I mean the kind of jumpers your great
grandmother may have knitted you and you'd have cried with desperation not to wear. Obviously if you can knit then this is one trend that you can really get your teeth into. If not you can head to the vintage stores, although personally I'm not that keen on pre-worn wool. Otherwise depending on your budget head for the boutiques and high street.
The pictured creation is from Matthew Williamson, it's girly, cute and retro. But French Connection, Topshop, Miss Selfridge and Oasis all have fabulous cheaper variations.
Choose cropped or shorter styles to wear with indigo jeans or woollen shorts. The tunic lengths will look great with wetlook leggings or pick out a colour and team with some brightly coloured tights. The great thing is this type of knitwear demands a certain throw it on comfortability, so pile on three pairs of socks, grab the bobble hat and pull on those mittens.