Last Updated on 19th October 2013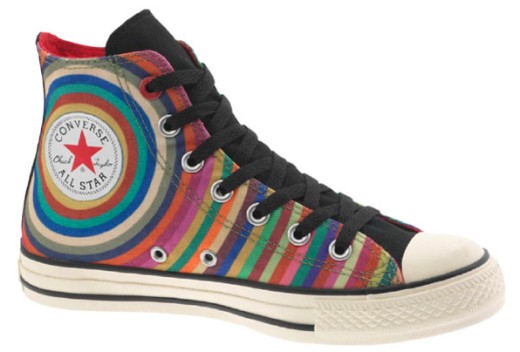 Much like those helpful people at Lee Cooper who auctioned one-off designer collaborations for the benefit of Designers Against Aids and the Red Cross (and those lucky enough to win items of course), Converse have launched the 1HUND(RED) initiative, supporting the elimination of Aids in Africa.
The popular Chuck Taylor design has been altered by 100 designers and artists who have integrated their ideas onto the shoe's canvas. Personal additions and enlightening visions prove this to be an interesting compilation. Scott Patt (global creative director of Converse footwear) designed the shoe pictured above, using the word 'connectivity' to accompany his interpretation, while Swedish Artist and Illustrator Camilla Engman imagined the perfect world with her adorable interpretation of Red Riding Hood.
'She's brave and doesn't expect anything bad to happen. That is how it should be… I want that for people, not to expect bad things."
The designers are being announced over the period of a year, so watch this space… either that, or you can sign up on the website to receive notifications of when new Chuck Taylor's are announced.
Pick these designs up online or create your own: 15% of sales will be donated to the global fund, concentrating on Aids, TB and Malaria.