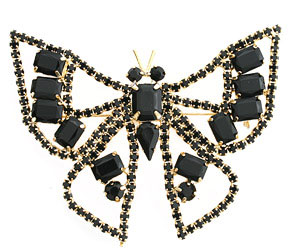 Miu Miu started the trend; Roberto Cavalli continued it and now the high street have adopted it as their own. I am of course talking about insects.
Whether it's a ladybird, a spider or a creepy beetle, insects are the must have items of the season. Adorn yourself with these not so cute creations to add a touch of gothic glamour to any outfit.
You'll find insects in an array of forms: rings, necklaces, brooches and all in a sparkling diamante or jet-black jewels. There is something incredibly distinctive about insect jewels, they add personality, to a simple jacket or shirt.
Pin a brooch on your winter hat or the collar of your shirt for a subtle sexiness or a spider ring or necklace will toughen up the prettiest of outfits.
Head to Miu Miu for gorgeous ladybird pins or Roberto Cavalli for dragonflies. Kenneth Jay Lane has a great bee ring and of course Topshop, Miss Selfridge and Oasis are in on the act.
Topshop stock the most spectacular beetle brooches and spider rings. Also have a look at ASOS who are carrying a great line of diamante insects, the pictured butterfly brooch is by Johnny Loves Rosie at ASOS for £20.
Alternatively venture to your nearest antique shop, insect jewels are very 1930s costume jewellery and the originala are always the best. Be warned, this is not a trend for those with entomophobia!