Last Updated on 19th October 2013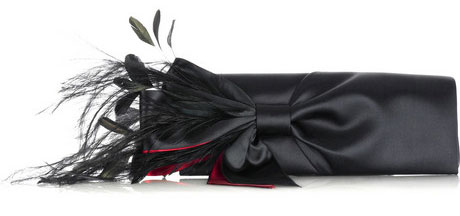 There are certain items, which are so girly, so feminine and impractical that you can't help but love them. This is true of feathers, they are a frivolous embellishment, they have no purpose except to look superb. Whether you prefer marabou or ostrich or just generic feather, they always add a cheeky twist to any outfit. Conjuring up images of 1930s film stars or burlesque queens there is something so sensual about the feather that you can't help but coo.
Designers and high street have chosen feathers to adorn their latest creations and they are the perfect credit crunch remedy. Well in as far as they symbolise a little piece of escapism, perhaps not the price tag. But whether you choose to go for the high street option in the form of Topshop feathered mini skirts, clutch bags and jackets or high end like this Christian Louboutin cancan feather clutch, there is certainly something to please everyone.
When wearing feathers keep your look simple, a marabou jacket will glam up a pair of black skinnies, or choose a bolero to add 30s glamour to your evening gown. A feather mini skirt requires plain opaque tights and ankle boots, to dabble in the trend try a clutch bag or choose items with a feather trim. It's all in the detail.