Last Updated on 19th October 2013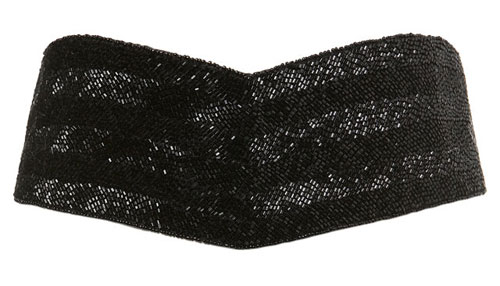 They're as common as Christmas lights this season but the jury is still out for me on whether cummerbunds for women are brilliant or just plain wrong.
There's beaded flapper-esque and circus style ones, silky ones, art deco ones and leather corset shaped ones in sweety colours. All very enticing but say the word cummerbund and what comes to mind is either portly men in cheap hire suits at weddings or fidgety teen boys going to prom. Not exactly style personified.
But with tux jackets so popular, I suppose it was only a matter of time before other male evening wear was redesigned and pimped up with sequins and beads for the female market. What's next? Dickie bows?
For a start there's the question of what on earth to wear them with? They're too much of a style statement in their own right to pair with items such as bubble, tulip or prom skirts. And they only work with shift dresses if you have the hips of a boy, which sadly I don't.
Yet, despite all this, they're sparkly and pretty and that means I should like them. So help, ideas please……